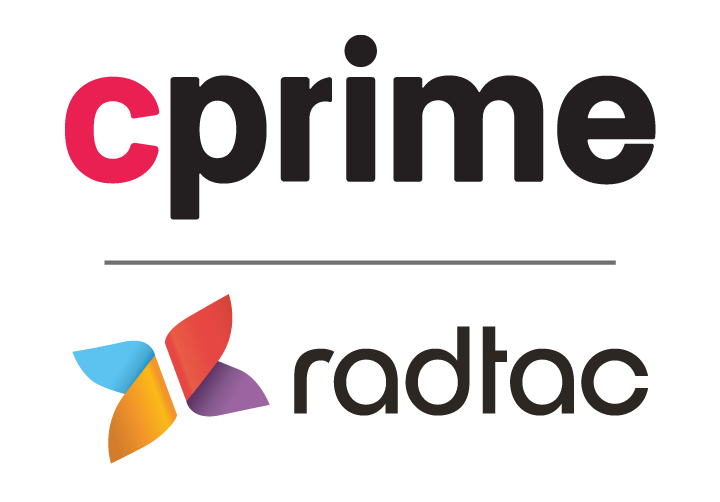 In an increasingly globalized world of technology creation, Cprime is always seeking to reach wider and deeper to deliver global transformations and product solutions for its clients.
"Enterprises on both sides of the Atlantic are looking to become responsive and better attuned to their market. Our experience shows that embedding and evolving Agile ways of working is the best way to accomplish this," said Zubin Irani, CEO at Cprime.
With this in mind, Cprime is proud to announce the acquisition of Radtac, a European leader headquartered in the UK, with a global presence in Scaled Agile consulting and training. Radtac was established over 20 years ago, and guides their clients to adapt and thrive in the digital era. Serving a blue-chip customer base, it has offices in the UK, Ireland, Finland, and Oman.
The acquisition augments Cprime's integrated and comprehensive portfolio of coaching, consulting, and training covering all the key frameworks in Agile, DevOps and Agile at Scale, and allows it to deliver full service digital transformations and technology solutions to its UK and global clients.
"With the acquisition of Radtac, we have extended our reach wider and deeper to deliver global transformations and product solutions for our clients in an increasingly globalized world of technology creation"- Zubin Irani, CEO, Cprime
There is significant power in joining forces. Radtac's "unique way of delivering Agile in an agile way, and our constant focus on achieving value aligns well with Cprime's approach and organizational culture, said Gustav Bjokeroth, CEO at Radtac. "Blending Cprime and Radtac's expertise will allow us to better partner with our clients' teams to develop the right solution for them."
Both Cprime and Radtac have extensive expertise in scaling agile in order to align teams to deliver complex products and services predictably. Dean Leffingwell, Co-founder and Chief Methodologist at SAI, shared that "Globally, the combined team [of Cprime and Radtac] represents years of cumulative experience, thought leadership, and innovation in the field of Scaled Agile. Joining forces with Radtac will allow Cprime to tailor the Scaled Agile Framework (SAFe) for enterprises looking to gain the latest business benefits that can be achieved through SAFe."
Read the official Press Release
We caught up with Gustav Bjokeroth, CEO at Radtac, to give us some insights on Radtac, the need to pivot to adjust to circumstances, and the acquisition by Cprime.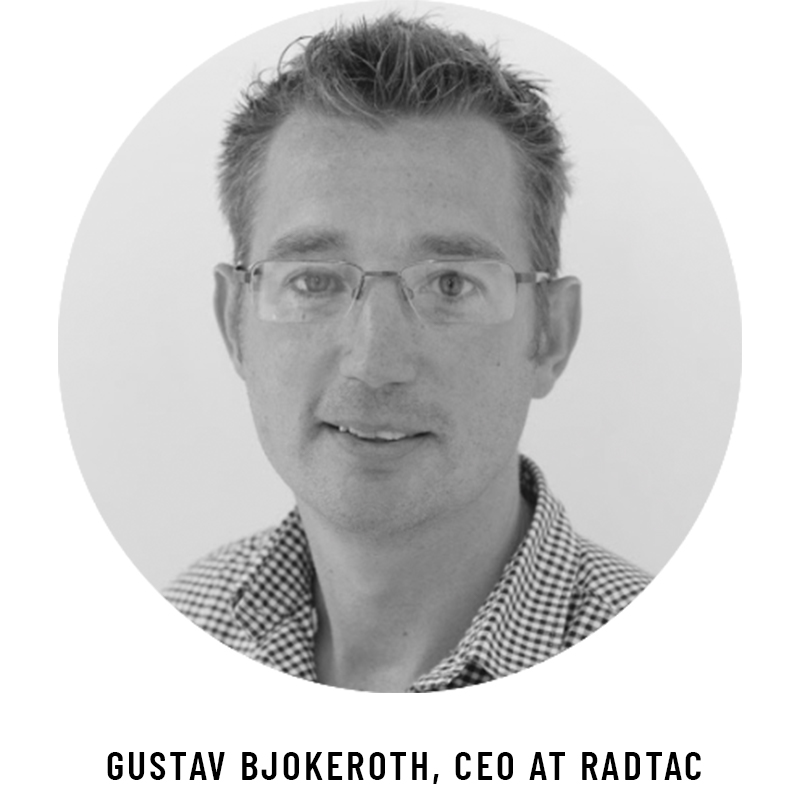 How did Radtac pivot and adjust to the new reality we are facing?
When Covid-19 was looming ominously, back in February 2020, we came up with four items on a Post-it note that we believed would be the drivers, both for the duration of the pandemic (we were unsure how long it was going to last) and also coming out the other side.
The four things that we called out were agility at scale, because we thought at the end of the Covid crisis, as people look to really try and drive that ability to be more customer-centric and get products out faster, they'll need a way of scaling agility.
We also believed that technical excellence and the need for proper quality engineering and DevOps capability would really come to the fore.
We thought that there would be a much more pronounced move towards enterprise agility, and that these conversations would really gain traction with the leadership of organizations.
And the last item on our list was digital learning. We sensed that there would be a real push towards digital learning and that the training market would probably move irreversibly away from some of the older static training courses into more bite-sized learning, as we'd seen trending in the past.
So when did you first become aware of Cprime and when did you realize that joining forces makes for such a good fit?
We've known Cprime for a long time as we're both SAFe Partners. We also knew Ken France and were familiar with his work. We were aware that Cprime had some client engagements in the UK, and we know those clients quite well as we worked with them in the past.
But let's be clear: Radtac was not for sale. We were approached by Ken very informally through the SAFe channels just to say, "Hey guys, what's going on, where do you see the market might be going, and do you think you might be interested in doing something a bit different?" And so we went into that conversation with just genuine openness, but without any desire to progress any kind of acquisition conversation.
The fact that it has developed into that genuinely is a testament to what I think is the cultural alignment across the two organizations. It hasn't felt like we're talking to "corporate people." It felt like we were talking to humans who have a similar outlook on the market, and a similar outlook on business, and a similar outlook on supporting customers. As more and more people got brought in to the dialogue, they all came away with the same view: "This is really exciting and this is going to be a good home for us." And that's important because, first and foremost, Cprime is acquiring our people, and it's all about the people.
What would be the biggest benefits that your customers would get from this acquisition?
The greatest benefit would be wider geographical scalability. Our customers will also benefit from the Technology and Product Agility capabilities, especially around technical and consulting offerings, as well as Atlassian services. Many of our clients clamor for this type of support which, up until now, Radtac could not provide. The overall value it would add to our agile at scale transformations would be absolutely massive. Overall this acquisition and the benefit it brings are well aligned with our current offering and our client's expectations.
What do you think Radtac has been doing really well, and where do you see an opportunity to grow?
We know what we do, and we don't try and pretend to be something that we're not. So I think we're very good at being honest with customers and telling them how we can help them in delivering on that promise, and, like every organization, we get that wrong sometimes. But as one of our associates said to us, "You guys don't always get it right, but you do try and live your values." We only have our reputation so we make a commitment and delivery on it, without trying to be all things to all people. Our strengths are agile at scale and team agility, training and consulting. Our job is to help clients develop the capability, and then leave. What I like about our conversations with Cprime, is that they say and do the same thing, which is really important. They just do it on a bigger scale.
Cprime brings complementary critical capabilities to our clients. The market has moved toward enterprise agility, and that's fabulous. It's great to see it getting traction right at the leadership levels. But on the other side, we're seeing technical aspects of delivery gaining traction. Now there's a need for proper engineering skills and it's important to help people understand what DevOps means and how to make it work for them. And then there's the whole conversation around Cloud, and it becomes critical to support some of these large agile initiatives.
So whether we're talking about the capabilities that exist across the core Cprime portfolio, or the recently acquired capabilities with companies like Archer and similar engineering expertise we've now got, that ability to retain that boutique authenticity, to help the customers find that self-sufficiency, but provide them with the full breadth of skills from the technical implementation all the way through to the enterprise agility piece, that's really powerful. All in all, the scalability will be a bonus to our clients.
I can honestly say that there's not many other people that I can see anywhere in the world that are currently offering that breadth and depth with that level of authenticity that I think sits behind the Radtac and Cprime story.
What is something you are looking forward to experiencing when you come to the US, once we will all be able to gather together?
I think the diversity in the US is a really powerful thing. I've spent quite a bit of time over there in different places. I am looking forward to spending more time with the people and understanding how things actually work and being able to take away some of the attitudes and ethos. We'll be richer in diversity and that's what i'm really looking forward to. I'm excited about actually working within a US company and understanding what that means. Besides – I love golf and sunshine, so there is a stack of cities I want to visit!
Last, but not least, what is your favorite type of food?
I love spicy food, so the hotter the better. I love Thai food. I would eat Thai food and live in Thailand tomorrow, if I could. Yorkshire, where we live, does fish and chips brilliantly, cooked in beef drippings, which is how it should be!