While there's no doubt that the
Atlassian stack
— and Jira Server in particular — has been transformative for countless organizations, as teams grow and companies mature, many start experiencing challenges with the solutions that worked so well just a short time earlier. And, since teams who are using Atlassian Jira to the full tend to "live" in the application for the majority of their working day, if it starts slowing down, getting hung up, or even crashing, it becomes more than just frustrating and inconvenient. It's costly.
While adding resources to the current instance can offer a short term "Band-Aid" solution, it's not a sustainable strategy. At the same time, scaling is a serious undertaking, both in terms of time and cost. That's why a long-term plan is vital.
A familiar solution that scales with you
Atlassian Jira Data Center was developed specifically to support unique and complex enterprise requirements. It functions much like the more widely used server products, but comes with added capabilities that can better serve large enterprise deployments.
Jira Data Center…
Supports the demand of growing teams
Helps to manage the increasing complexity of expanding operations
Supports processes for globally distributed teams
Takes compliance constraints into account
Boasts enhanced security and superior infrastructure control
Offers the most dependable performance at scale in the Jira product line
Jira Data Center
empowers your teams with seamless collaboration and helps you maintain your critical applications at high availability using load-balancing, database clustering and shared file systems that will minimize downtime. With this solution at your fingertips, you can scale with confidence and build a long-term strategy for your ever-growing organization.
But, why?
So, we've highlighted a problem and identified a solution. But, realistically, there's a lot in between that's been left out:
When does you business need to consider moving toward Jira Data Center?
What does a migration to Jira Data Center look like?
How can you be sure this is the right solution for your company?
Perhaps most importantly, why is Jira Data Center a worthwhile investment? And, how can you ensure your new Data Center instance is performing optimally and actually accomplishing all these goals from a business perspective?
We captured a powerful presentation by Cprime Solution Engineer Sneha Crews that covers all these points and more in 30 information-packed minutes. We encourage you to set a half-hour aside and enjoy the recording at your convenience.
Getting One Step Ahead of Your Competition with Atlassian Jira Data Center
In case you don't have that time to invest, here are some key takeaways from the recording:
Benefits of Jira Data Center
The solution's unique, enterprise-focused architecture allows your organization to run Jira on multiple nodes with a load balancer in place to ensure all nodes are effectively managed. This provides more flexibility and control over the server application. A shared database and shared file system arrangement rounds out the architecture upgrades when compared to Jira Server.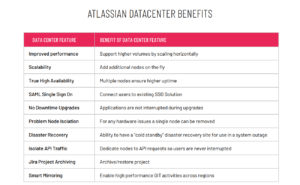 These differences offer enterprise customers optimal performance, including:
Increased concurrent user capacity
Improved redundancy
Reduced latency and downtime
Smoother scaling to handle surges and dips efficiently
Zero-downtime upgrades (handled one node at a time)
The sum result of all these improvements is simple: A faster, smoother, more stable Jira instance that can handle the needs of enterprise-level development and customer service environments with the speed and efficiency you've come to expect from Jira. And that translates directly to dollars and cents.
(NOTE: This isn't a comprehensive list of benefits.
Watch the webinar
to learn more about Jira Data Center's enhanced security and compliance features, ease of deployment for AWS and Azure, how it factors into your disaster recovery plan, and more!)
Jira Server challenges and how they're addressed by scaling
With tens of thousands of active instances running worldwide, Atlassian and Cprime have identified some general thresholds at which organizations are usually experiencing enough challenges with their existing Jira instances to make migrating to Jira Data Center worthwhile:
Over 500 users – If you have more than 500 active and engaged users in Jira every day, you're probably experiencing latency and other performance issues that may justify moving to the Data Center solution. If you have over 1000 users, it's almost guaranteed that performance issues are costing you more than it would cost to scale to Data Center.
Ongoing performance issues – If you're experiencing derogated performance, slowness, or latency issues on a routine basis — regardless of how many concurrent users you have — you can likely benefit by migrating to the Data Center solution. These issues likely mean your particular use case maxes out the efficacy of the Server solution at a lower user threshold.
Outages – Any outage is a costly and annoying problem. For some companies, outages can be disastrous. Considering an outage as the ultimate performance issue, upgrading to a more stable and secure solution that prevents outages and downtime should be considered as an investment.
Increased administration and compliance needs – If some change in the industry or your organization leads to an increase in admin or compliance requirements, trying to shoehorn those needs into the existing Jira instance may be more labor- and time-intensive than makes sense. Data Center's built in monitoring and compliance features may alleviate that issue.
Keeping up with competition and acquisitions
In some cases, migrating to Jira Data Center makes sense strategically even if the organization isn't currently experiencing widespread performance issues with the current
Jira
instance.
For example, if you're eyeing a large acquisition in the near future, it might make sense to upgrade to Data Center before hitting your renewal date on Jira Server. Or, you may see an industry trend or movement among your competitors that indicates large scale growth in the near future makes good business sense. In either case, anticipating growth and scaling your Atlassian stack ahead of time to support that can save time and money down the road when you need to be more focused on managing change within the organization.
For even more questions and KPI's to look into when considering scaling to Jira Data Center,
watch the webinar
.
Learn more on how to design and plan a Jira Data Center installation:
Explore Now