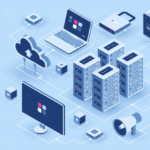 As teams grow and companies mature, many organizations face challenges with their existing Atlassian stack. While adding resources to the current instance can help address performance concerns in the short term, this solution is not sustainable in the long run. Scaling is not trivial. Managing your infrastructure and administering Atlassian products can become costly and time-consuming endeavor without a long-term plan.
Atlassian Jira Data Center is a self-managed deployment option specifically designed to support unique and complex enterprise requirements. It offers similar functionality as server products, with additional capabilities to better serve large enterprise deployments.
Jira Data Center supports the demand of growing teams and helps to manage the increasing complexity of expanding operations. It also supports processes or globally distributed teams, compliance constraints, security superior infrastructure control and dependable performance at scale.
Jira Data Center empowers your teams to successful scale horizontally for seamless collaboration. It helps you maintain high availability of your critical applications with industry standard load-balancing, database clustering and shared files systems to minimize downtime.
You can now scale with confidence and build a long-term strategy for your ever-growing teams.
In this webinar, you'll learn:
Benefits of Jira Data Center for your Enterprise
How you can innovate at scale by reducing process and better connect your teams
How to find the right level of control for compliance, security, regulatory and other organizational requirements
How to improve performance, reduce unacceptable downtime and streamline administration processes
Watch the Webinar on Demand
Some of the images used were designed by freepik.com