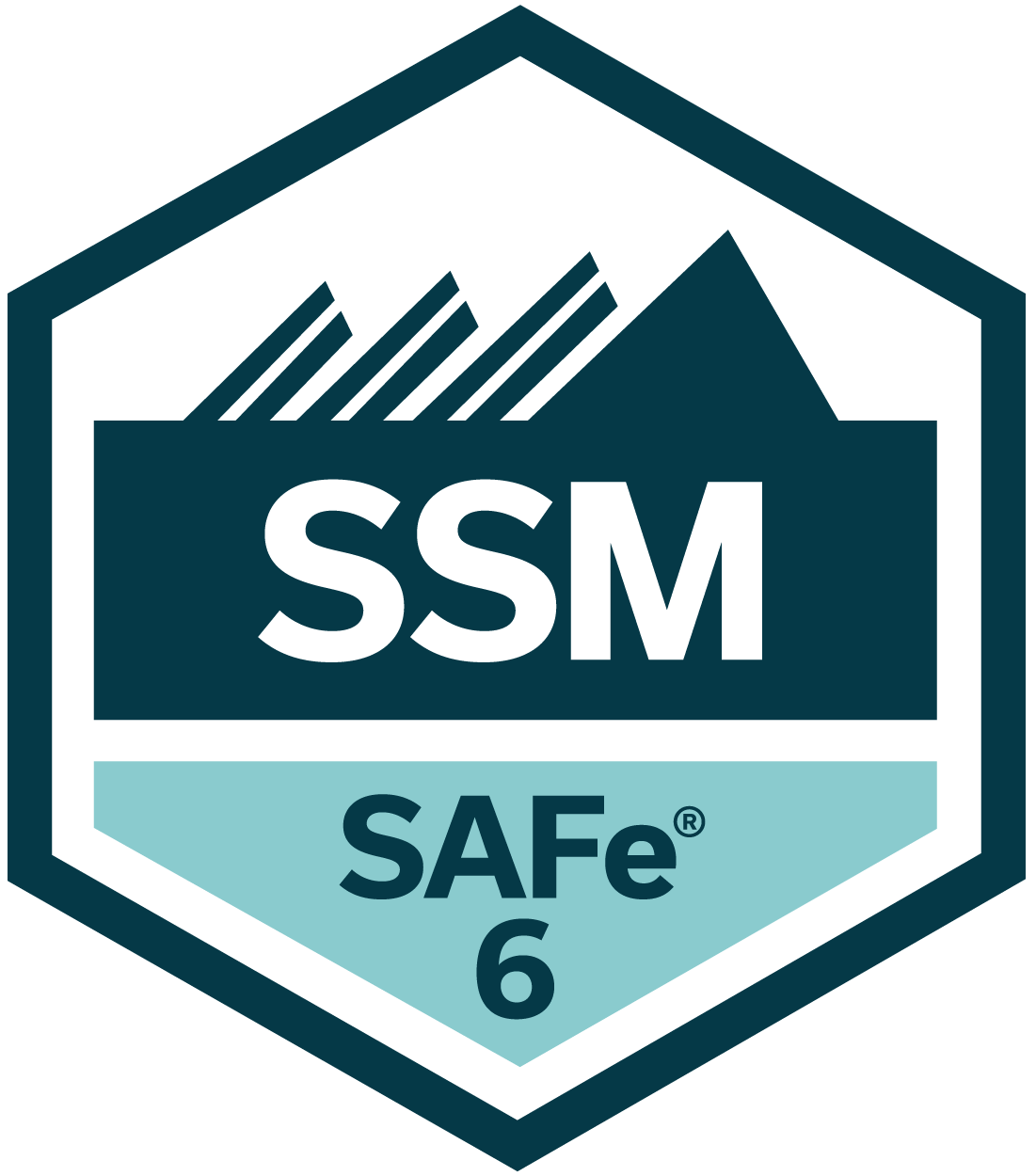 Certified SAFe® Scrum Master (SSM)
Applying the Scrum Master Role within a SAFe® Enterprise
In this two-day SAFe Scrum Master training course, you'll gain an understanding of the role of Scrum Master in a SAFe enterprise. Unlike traditional Scrum Master training that focuses on the fundamentals of team-level Scrum, the SAFe 6.0 Scrum Master course explores the role of Scrum in the context of the entire enterprise and prepares you to successfully plan and execute the Program Increment (PI), the primary enabler of alignment throughout all levels of a SAFe organization. This includes learning the key components of scaled Agile development, how Scrum is facilitated throughout the enterprise, and how to execute iteration planning. You'll also discover how to build high performing Agile teams by becoming a servant leader and coach, and how to coach those teams to deliver the maximum business value that is achievable through SAFe. The SSM certification signifies that you are prepared to perform the role of Scrum Master in a SAFe environment, increasing your value to teams and organizations that are implementing SAFe.
Cprime is proud to be a Gold SPCT and Platform Level partner with Scaled Agile, the exclusive certifying body for the Scaled Agile Framework. Attending this class and passing the qualifying exam will earn you the SAFe Scrum Master (SSM) certification.
Duration
2 days/16 hours of instruction
Education Credits
15 PDUs
Public Classroom Pricing
GSA Price: $726.35
Group Rate: $895
Private Group Pricing
Have a group of 5 or more students? Request special pricing for private group training today.
Download the Course Brochure
Part 1: Introducing Scrum in SAFe
1.        Examine basic Agile development concepts
2.       Explore scrum basics
3.       Position an Agile Team in a SAFe Enterprise
Part 2: Characterizing the Role of the Scrum Master
1.        Examine the responsibilities of the Scrum Master role
2.       Explore the characteristics of an effective Scrum Master
3.       Build high-performing teams
4.       Facilitate effective team events
5.       Coach the Agile Team using powerful questions
6.       Collaborate with other teams
7.       Resolve team conflicts
Part 3: Experiencing PI Planning
1.        Prepare to experience PI Planning
2.       Create and review draft PI plans
3.       Finalize plans and establish business value
4.       Review final plans and commit to a set of PI Objectives
5.       Facilitate an effective PI Planning
Part 4: Facilitating Iteration Execution
1.        Plan the Iteration
2.       Track the Iteration progress
3.       Refine the Backlog
4.       Facilitate the Iteration Review
5.       Facilitate relentless improvement
6.       Support DevOps and Release on Demand
Part 5: Finishing the PI
1.       Coach the IP Iteration
2.       Prepare the team for the Inspect and Adapt event
Part 6: Becoming a Certified SAFe Scrum Master
1.        Becoming a Certified SAFe Scrum Master
Intended for people new to the role of the Scrum Master, or people wanting to better understand the role and how it fits in a SAFe enterprise, attendees typically include:
New or existing Scrum Masters
Team Leads
Release Train Engineers
Identify the key components of Agile development
Identify the key elements of Scrum
Explore Scrum in the context of a SAFe enterprise
Describe the roles and responsibilities of the Scrum Master
Identify the characteristics of an effective Scrum Master
Experience PI planning and explore how to facilitate this event
Experience a complete iteration
Explore how to facilitate iteration planning, backlog refinement, team and system demos, and the iteration retrospective
Identify ways to track iteration progress and foster collaboration and synchronization between the teams in the program
Explore improvement at the Program level with the Inspect and Adapt workshop
Exam name – SAFe® 6 Scrum Master Exam
Exam format – Multiple choice (one answer) or multiple select (2-3 answers)
Exam delivery – Web-based (single-browser), closed book, no outside assistance, timed
Exam access – Candidates can access the exam within the SAFe Community Platform upon completion of the SAFe® Scrum Master course
Exam duration – Once the exam begins, candidates have 90 minutes (1.5 hours) to complete the exam
Number of questions – 45
Passing score – SSM 6 = 33 out of 45 (73%)
Language – English
Exam cost – First exam attempt is included as part of the course registration fee if the exam is taken within 30 days of course completion. Each retake attempt costs $50.
Retake policy – Second attempt on exam (first retake) can be done immediately after first attempt. Third attempt requires a 10-day wait. Fourth attempt requires a 30-day wait.
Reviews of our Certified SAFe® Scrum Master (SSM) Course
Overall great experience. Rita Emmons and Anthony Crain had awesome energy. In addition, their greatest strength is the anecdotal and real-world application of the examples. I even learned more about Agile Scrum in this course than I did in my previous certification course from another company.Once again great work.
I feel very motivated and encourage my teammates to register themselves on the next available training.
The class itself was excellent. Instructors were knowledgable and flexed the approach to sharing content and engaging the learners based on our needs and interests. The content was easy to follow on screen share or on own version of materials.
Certified SAFe® Scrum Master (SSM) Schedule
Delivery
Date
Instructor
Register
Request Private Group Training