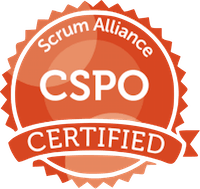 Certified Scrum Product Owner (CSPO) Workshop
Learn to create the product vision, order the Product Backlog, and forge a great experience for the customer.
As we move through the disciplines promoted by Scrum you will gain a comprehensive understanding of agile product development methodology while specifically reviewing the behaviors expected of a Product Owner. While many of us may be accustomed to the practice of establishing value and priority across projects, the Product Owner needs to consider value and priority across the features of a single project.
After successfully completing this class, participants will be registered with the Scrum Alliance as Certified Scrum Product Owners (CSPO) and will have online access to the class training materials and any updates for one year. This course is also approved for 16 PDU's with the PMI.
*Please visit the Certified Scrum Product Owner Workshop (CSPO) certification page for more information as certification requirements periodically change.
Duration
2 days/16 hours of instruction
Education Credits
16 PDUs
Public Classroom Pricing
GSA Price: $650
Group Rate: $650
Private Group Pricing
Have a group of 5 or more students? Request special pricing for private group training today.
Download the Course Brochure
Part 1: Product Owner Core Competencies
Fundamentals of the Product Owner Role
Working with Stakeholders
Product Ownership with Multiple Teams
Part 2: Describing Purpose and Strategy
Part 3: Understanding Customers and Users
Part 4: Validating Product Assumptions
Part 5: Working with the Product Backlog
Differentiating Outcome and Output
Defining Value
Creating and Refining Items
Technical professionals associated with the specification, design, development and testing of products will benefit from this two-day program. Some of the professionals this will benefit include:
Product Managers/Business Analysts
Functional/Operational Managers/Directors
Project Sponsors
IT Leadership (Managers/Directors/VPs/CIOs/CTOs)
Anyone interested in learning the benefits of Scrum for Product Management
This class is suitable for those who are responsible for setting product direction on a Scrum project. While current Certified ScrumMasters are welcome to attend, this class should not be considered as a next step after taking the CSM Class, but instead should be viewed as an alternative to the CSM Class.
Please note: This course has an Attendance and Virtual Camera Requirement
Attendance is required throughout the duration of this course. Instructors will verify each student's attendance and participation to ensure course completion.

Webcam usage is required by all students
Understand the fundamentals, terminology, practices and principles of the role of the Certified Scrum Product Owner

Demonstrate your knowledge of the role of the Scrum Product Owner to advance your career.
Reviews of our Certified Scrum Product Owner (CSPO) Workshop Course
Best class I took. Best instructor I ever had.
The course was fast paced, clear, and very concise. Both instructors were very passionate about SCUM.
Eric was a great facilitator! He made the content very understandable and ensured all members were engaged through zoom. Great work
Anu is super-pro. I was very impressed with her depth of knowledge and teaching capability.
Very enjoyable class. I will admit, I was unsure how engaged I would be in a virtual class but it was great! Eric's use of the Miro tool and the breakout sessions really kept us engaged. Thank you!
Very good and friendly introduction to the concepts of SCRUM.
Kim did a great job facilitating and teaching the workshop. Lots of exercises and tools to review. The content was relevant and interesting.
A good balance of team and lecture. High degree of time to value - lots of lessons in a short period of time while keeping a coherent story arc.
Great training; I think most of us are hands on learners - so having so many "projects" to do kept us engaged. More so that we used real world examples.
The content of the course was well explained with thorough detail. Slides were focused and provided relevant information about the topic at hand. Angela did a fantastic job during the training. She was polite, personable, direct, and focused.
Peter was an amazing instructor. He delivered the content in an interactive way and kept the attention of the class throughout the course. He was extremely knowledgeable on the topics and was able to answer any questions the class had.
About a month ago I completed the Scrum Master course and could have received a discount however, I wanted to take it from a different instructor and am so glad I did! What an excellent class lead by Eric! He kept us well engaged, and was extremely informative. I also appreciate his personal experiences as it related to the content. I will definitely recommend this class to colleagues. Thanks Eric!
Very much enjoyed Kim as an instructor and would highly recommend.
The class was very hands on and even the agenda for the class was sprint - I thought that was amazing way to learn the CSPO role. Thanks!
Kim was amazing. She was clear, kept us focused, engaged, etc. She set clear expectations on what we should know before the class which was very helpful. It was a great mix of learning and applying. I felt like this could NOT have gone better. I don't feel like there was any issue with this being virtual as opposed to in-person.
Great class, good flow. Open and honest communication; felt comfortable throughout. [Instructor was] professional and prepared.
It is an arduous task to be able to deliver this training virtually and Kim absolutely nailed it! Well done!
Kim is a great instructor with tons of passion. She has clearly internalized the material and the way she delivers it is engaging and fun.
Certified Scrum Product Owner (CSPO) Workshop Schedule
Location
Date
Instructor
Register
Request Private Group Training