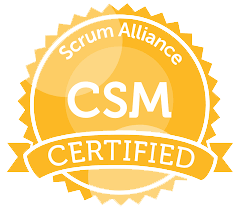 Certified ScrumMaster (CSM)
This Scrum Master (CSM) course will give you a comprehensive understanding of the Scrum methodology while reviewing the behaviors expected of a Scrum Master.
Beginning with the history of agile development and moving through the disciplines promoted by Scrum, the Certified ScrumMaster (CSM) training course gives you a comprehensive understanding of the Scrum methodology while specifically reviewing the behaviors expected of a ScrumMaster. This two–day Certified ScrumMaster training course is suitable for those practicing or looking to practice the art of the ScrumMaster but is highly valuable for anyone involved in Scrum.
Even projects that have solid, well–defined project plans encounter some degree of change and waste. Shifting market conditions, budget cuts, staff restructuring, or any number of influences disrupt the best plan while contributing to customer dissatisfaction and staff discouragement. Moreover, projects that begin with changing or unclear requirements make it difficult to establish project expectations. Scrum is the agile development process that allows teams to deliver usable software periodically throughout the life of the project, evolving with new requirements as the project proceeds.
Duration
2 days/16 hours of instruction
Education Credits
16 PDUs
Public Classroom Pricing
GSA Price: $649
Group Rate: $650
Private Group Pricing
Have a group of 5 or more students? Request special pricing for private group training today.
Download the Course Brochure
Part 1: Scrum Theory
Empiricism and the three empirical pillars

Benefits of an Iterative and Incremental approach

The Scrum Framework

Scrum Values

Scrum alignment to the Agile Manifesto
Part 2: The Scrum Team
The responsibilities of the Scrum Team

The responsibilities of the Product Owner, Developers, and Scrum Master

Single Product Owners

Product Owners own the Product Backlog

Delivering an Increment

Benefits of a cross-functional and self-managing Scrum Team
Part 3: Scrum Events and Activities
Benefits of Timeboxing

Purpose of a Sprint

Define and perform Sprint Planning, Daily Scrum, Sprint Review, Sprint Retrospective

Product Backlog Refinement

Inspecting and Adapting events

When to cancel a sprint

Daily Scrum is not a status meeting
Part 4: Scrum Artifacts and Commitments
Purpose of the Product Backlog, Sprint Backlog, Increment

The commitments of Product Goals,Sprint Goals, Definition of Done

Product Backlog emergence

Attributes of a Product Backlog

Sprint and Increment relationship

Evolution of a Definition of Done

Multiple Teams working on one Product Backlog
Part 5: Scrum Master Core Competencies
Facilitation

Facilitating decision making

Teaching

Coaching

Mentoring
Part 6: Service to Scrum Team, Product Owner and Organization
How does a Scrum Master serve the Scrum Team

Explaining Technical Debt

Understanding development practices to improve quality and reduce technical debt

Supporting the Product Owner

Organizational impediments that affect Scrum Teams

Techniques for resolving impediments

Why are there no Project managers in Scrum?
This Scrum Master (CSM) certification program was developed for any professional who is currently involved in or will become involved in the running of Scrum projects.
Professionals who may benefit include:
Current Scrum Team Members not certified:
Business customer, user or partner
Product Owners
Team Members
Acting ScrumMasters who currently are not scrum certified
Positions within organizations that are interested in moving to Scrum:
Project Manager
Project lead
Project sponsors
IT Manager/Directors
Business Analyst
Developers/Programmers
Please note: This course has an Attendance and Virtual Camera Requirement
Attendance is required throughout the duration of this course. Instructors will verify each student's attendance and participation to ensure course completion.

Webcam usage is required by all students
Explain and facilitate the Scrum roles: team member, Product Owner, ScrumMaster
Use the foundational, critical concepts of Scrum
Apply empirical thinking to your project work
Understand your team's productivity and lead them to improve it
Communicate the importance of organizational agreement on software readiness
Appreciate that the ScrumMaster role can be the most satisfying as well as the most difficult job on a project
Embrace the role of conflict resolution in Scrum
Work on real-world Scrum projects
Utilize the Scrum framework
Know when software is "done" under Scrum
Attendees must pass a 50 question assessment with a minimum of 74% upon course completion before a certification is issued.
There will be a 60-minute time limit for the exam.
Certifying Test is issued directly from Scrum Alliance via email and taken online.
1 retake is included if the student does not pass the first time. There is no cool off period so the retake can be completed immediately. If the student does not pass after the first retake there is a $25 fee for each additional retake.
Reviews of our Certified ScrumMaster (CSM) Course
This was one of the best courses I have ever taken. Kim was excellent and very engaging in a virtual environment. She kept everyone engaged and related real world examples with the material she presented.
The instructor was awesome. He was able to get everyone engaged, kept it interesting, and gave so much logical information.
Course content prepared me well for the certification exam which I passed on the first attempt. Angela was great! I'd take another class with her.
Course work was very timely and applicable - I had done some previous study on this certification, but felt that I got a lot of hands on experience with the actual course! It was well plotted and good information to use.
I thoroughly enjoyed this online training. It was as close as you can get to in-person training. The course was well designed and time boxed for the material, with planned breaks and breakout rooms for the exercises.
This was probably one of the best Live Training courses I have ever taken. Great class! Very fun and interactive. [The instructor] was great! He kept us on task, transparent with the objective and timing, and very fun!
Thanks to both John and Stuart. It was a great learning experience and very interactive. Stuart is a great artist and makes learning fun.
Excellent real-world examples and storytelling. I very much enjoyed the pace and application of adult learning principles with frequent breaks, I will be using this technique in future self-paced education and work balance. Thank you!!
Loved the class!! Anu is FABULOUS!!!! We had 2 additional trainers in "training" and they did an excellent job too. Big call out to Shika!
Anu was fabulous! The examples and interactive Murals shared by her team really helped me understand the material to be prepared for the test. Loved how the breakout rooms were flawlessly engineered too. Excellent and engaging all around!
[The instructors] did a fantastic job bringing the content to life, introducing frameworks and methods, and speaking to how best to prepare for the certification. I felt that we had a thorough introduction to Agile and to Scrum.
Excellent course, I truly enjoyed it.
Great course and loved the set up! Very engaging and informative.
The course was very interactive, fun, and very valuable. It was very well organized in a manner that was easy to understand and apply in our professional world. Eric was such a fantastic instructor- this has by far been the best training I have ever had in my professional career!
The content covered all aspects of Scrum as well as how the role of Scrum Master works with those aspects.
This is the best course I've ever taken in my professional career of 20 years. The instructor was incredible! He was able to connect and engage entire participants.
Fantastic and insightful course led by an exemplary instructor. I feel confident I am going to pass my exam on the very first try. Extremely knowledgeable guide through everything SCRUM. The hands-on approach used by the instructor was the most engaging part of the class. We began using scrum methodologies without even knowing what it was. A+ fantastic class would recommend to anyone who is in the market for these courses.
One of the best classes attended, great instructor and material!
Excellent real world examples throughout the course.
Great course. Lots of real world examples. [The instructor's] knowledge is second to none.
The course content was excellent! Very easy to understand and flowed from on topic to the next in a very organized way.
Angela is a terrific instructor. Her tone, inflection, facial expressions and clear mastery of what she was talking about made an online class very easy to learn from.
Christian was teaching from his own experience and from things he's actually learned on the job. He did a fantastic job of going through the material but also showing how it's applied to him personally. This was an outstanding course taught by an outstanding teacher.
Peter was an excellent instructor. He was very engaging and knowledgeable. He had great answers to all questions.
[The instructor] is amazing, I kind of want to hire him to do a deep dive of our companies current processes so he can help improve them
Engaging and knowledgeable instructors. I feel they have prepared me for the CSM exams.
Peter was a fantastic instructor. He presented all the material in a helpful and informative manner. He spent time to work through any questions the class had and was an excellent conversation facilitator.
Peter kept the group engaged at all times! I've taken other courses in the past and wish Peter could have been the teacher for all of them as he made the time pass so quickly!
Great course with an excellent instructor. I felt confident going into the CSM test and was able to pass the same day I wrapped up the class.
Course content was very good. Having the guides to review was very helpful to passing the CSM exam.
Great training. Learned a lot. Good tools and resources provided like the online UA site and The Scrum Guide.
I passed my certification and thoroughly enjoyed the class. It was fantastic!
The training was fantastic! One of the best I've attend. I loved the breakout sessions and interactivity of the activities through Mural. So well done!
The best virtual class I have ever taken. Kim was committed to delivering an interactive course with participation from everyone, versus listening to someone drone on through PowerPoint slides just to get through material covered on an exam. Kim's passion and love for this topic was evident and benefitted the students in the class.
This was fantastic. [The instructors] were amazing, super knowledgable, and very willing to assist us with everything. I will 100% recommend to anyone interested in getting certified.
Really enjoyed the program.
I was very happy with this course and almost feel like I lucked out by selecting a course led by Dr. Bob. I knew he had a great deal of knowledge and expertise but did not know the extent until we got into the course.
Certified ScrumMaster (CSM) Schedule
Delivery
Date
Instructor
Register
Request Private Group Training