GitLab for CI/CD Pipelines
In a hands-on environment, learn to use the GitLab toolset to start, progress, or mature your CI/CD environment in a way that integrates with your existing pipelines with GitLab.
This course covers setting up continuous integration/continuous deployment (CI/CD) for your projects. It starts with a round-robin discussion of where your team is at with CI/CD today. It then focuses on what is CI/CD, why it should be used, and how to implement within GitLab. This class includes live demonstrations of the use of GitLab.
GitLab CI/CD Training covers some features that are available in all three GitLab pricing tiers (Free, Premium, and Ultimate), some features that are only available in Premium and Ultimate, and a small number of features that are only available in Ultimate.
This class provides students with the necessary training to achieve their GitLab CI/CD Associate certification. The certification fee is not included in the course price. To earn certification, GitLab CI/CD Training participants must receive a passing score on both a written assessment and a lab assessment evaluated by a GitLab Professional Services Engineer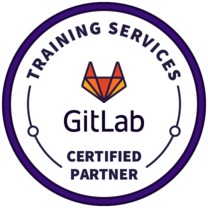 Duration
1 day/8 hours of instruction
Public Classroom Pricing
GSA Price: $685
Group Rate: $695
Private Group Pricing
Have a group of 5 or more students? Request special pricing for private group training today.
Part 1: GitLab Overview and Flow
What is GitLab

Today's Software Delivery Landscape

GitLab Workflow and Example

What is CI/CD

GitLab's CI/CD Workflow

Why Use CI/CD

Dogfooding: Building GitLab with GitLab

Demo

: GitLab Introduction/Navigation
Part 2: Architecture and Runners
GitLab CI/CD Basic Flow

Configuration File and Runners

Runner Architecture

Runner Characteristics and Types

Advanced Runner Options

Common Executors

Demo

: Runner Registration

Config.toml File
Part 3: Anatomy of a Pipeline
Anatomy of a CI/CD Pipeline

Basic Pipeline Builds

Directed Acyclic Graph Pipelines

Child and Parent Pipelines

GitLab Pipeline Graph

.gitlab-ci.yml Example

Basic Parameters: Definitions and Examples

Demo

: GitLab Pipeline Configuration

Hands-on Lab

: Create a CI Pipeline
Part 4: Advanced Keywords and DRY
Advanced Parameters

Dependencies

Needs

Parallel

Trigger
Part 5: Variable Precedence & Scoping
Microlearning Game- Reviewing Day 1

Hands-On Lab:

Create a CI/CD Pipeline

Hands-On Lab

: Define a Pipeline with Environments

Hands-On Lab

: Variable Hierarchy

Variable Priority
Part 6: Job Policy Patterns
Hands-On Lab:

Scaffold Out a Job Policy Pattern

Microlearning Game: Pipeline Review
Part 7: Artifacts and Dependencies
Hands-On Lab

: Artifact Hierarchy
Part 8: Registry & Deployments
What are Package and Container Registries?

Hands-On Lab

: GitLab Docker Registry
Part 9: Security Scanning or Code Quality Scanning (student choice)
Hands-On Lab:

Enabling Security Scanning OR Code Quality
Attendees should already be familiar at a basic knowledge level with the following concepts:
Familiarity with agile development and source code management

GitLab with Git Basics course or equivalent knowledge
Professionals who will benefit from this training include:
Technical project leads

Developers

DevOps practice members

Software engineers

Technical product owners

Application team members 
How to accurately describe CI/CD

How runners work

To set up and configure CI/CD and runners

To verify a new feature

Scope and persist variables at various levels

Scaffold out the basics of a test, build, review, and deploy pipeline leveraging feature/topic branching as the review mechanism

Release and deployment workflow

Artifacts and dependency caching

Building and deploying images to GitLab registry

Student choice between static application security scanning and code quality scanning
GitLab for CI/CD Pipelines Schedule
Request Private Group Training