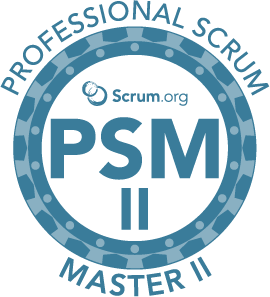 Professional Scrum Master II
Prove Your Advanced Knowledge of Scrum
The 2-day Professional Scrum Master II (PSM II) course is an advanced class designed to support Scrum Masters in their professional development. Unlike the Professional Scrum Master (PSM) course which focuses on how to use Scrum, the Scrum framework, and the role of the Scrum Master, PSM II is an advanced course that helps students to understand the stances that characterize an effective Scrum Master and servant-leader. The class dives deep into how Scrum Masters serve the Scrum Team, Product Owner, and the organization. Students will learn about areas critical to growing as a successful Scrum Master such as how the principles and values of Scrum help guide Scrum Masters in the decisions they make and how the Scrum Master can help change the environment of Scrum Teams, creating the conditions for agility to thrive. Students will also explore related practices and skills which will enable them to have the right types of conversations and how to apply them to become better Scrum Masters. Throughout the class, your PST will provide stories, exercises, facilitation techniques (such as "Liberating Structures"), resources, and more.
Duration
2 days/16 hours of instruction
Public Classroom Pricing
GSA Price: $950
Group Rate: $1195
Private Group Pricing
Have a group of 5 or more students? Request special pricing for private group training today.
Training Agenda:
Introductions
The role of the Scrum Master
Services to the Scrum Team
Services to the Product Owner
Services to the organization
Closing
The Professional Scrum Master II course is an advanced course specifically designed for experienced Scrum Masters who have a thorough understanding of the Scrum framework. It is particularly beneficial for those with at least one year of Scrum Master experience.
Become a more effective Scrum Master
Support the Scrum Team
Support the organization
Challenge middle management
Deal with complexity and impediments
Measure Scrum metrics

Successfully d

eliver products
Utilize facilitation techniques 
Passing score: 85%
Time limit: 90 minutes
Number of Questions: 30 (partial credit provide on some questions)
Difficulty: Advanced
Format: Multiple Choice, Multiple Answer, and True/False
Language: English only
Professional Scrum Master II Schedule
Delivery
Date
Instructor
Register
Request Private Group Training