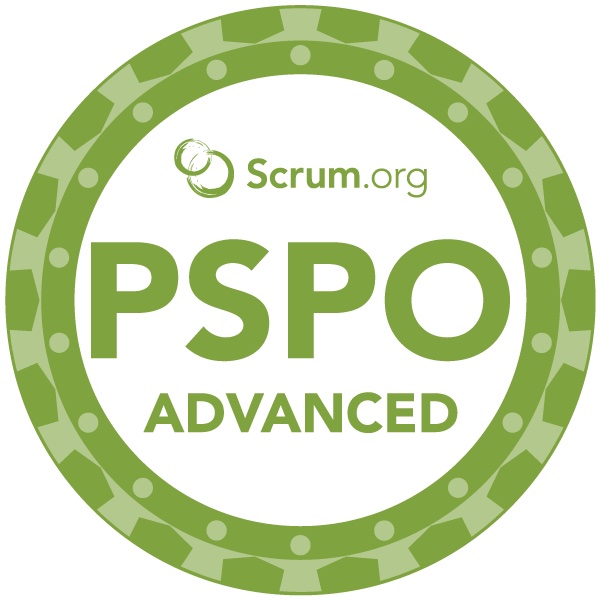 Professional Scrum Product Owner - Advanced Training
Master the Product Owner Profession
This 2-day Professional Product Owner - Advanced (PSPO-A) course focuses on helping experienced practitioners expand their ability to establish a solid vision, validate their hypotheses, and ultimately deliver more value to their stakeholders. The PSPO-A course is intended for Product Owners who are looking to grow their knowledge and abilities.
The course goes beyond the topics explored in the Professional Scrum Product Owner (PSPO) class by deepening the attendee's understanding of the role through the exploration of the many stances of a professional Product Owner. This course is an interactive, experiential workshop where attendees explore topics through a series of exercises and discussions. Students should have at least one year of Product Owner experience and practical knowledge of Scrum in order to participate in and benefit from these exercises. Having previously taken the PSPO class is recommended, but not required.
The course also includes a free attempt at the globally recognized Professional Scrum Product Owner II certification exam (PSPO II).
Duration
2 days/16 hours of instruction
Public Classroom Pricing
GSA Price: $950
Group Rate: $1195
Private Group Pricing
Have a group of 5 or more students? Request special pricing for private group training today.
Training Agenda:
The Stances of the Product Owner
The Customer Representative
The Visionary
The Experimenter
The Decision Maker
The Collaborator
The Influencer
Closing the Training
The Professional Product Owner-Advanced course is an advanced course specifically designed for Product Owners and product managers who have practical experience managing or owning a product. It is also beneficial to Scrum Masters and stakeholders who work with Product Owners. It is particularly beneficial for those with at least one year of building products with a Scrum Team.
Understand your products
Connect with your customers?
Connect product features to customer outcomes
Communicate the product vision and strategy
Value and pricing models
Be innovative and experimental
Manage stakeholders
Utilize Agile governance, budgeting, and contracting in relation to Scrum
Scale the Product Owner role
Passing score: 85%
Time limit: 60 minutes
Number of Questions: 40
Format: Multiple Choice, Multiple Answer
Difficulty: Advanced
Language: English only
Professional Scrum Product Owner - Advanced Training Schedule
Location
Date
Instructor
Register
There are currently no scheduled classes for this course. Please contact us if you would like more information or to schedule this course for you or your company.
Request Private Group Training