Certified SAFe® Agile Product Manager (APM)
The Agile Product Management course allows you to discover the right mindset, skills, and tools you need to create successful products and solutions using Agile techniques. Learn how to use Design Thinking to create products and solutions that are:
Desirable – what customers want
Viable – profitable for you to build and sell
Feasible – something you can realistically deliver
Sustainable – something you can proactively manage to realize ROI
Attendees will recognize how Continuous Exploration fuels innovation and helps you define a vision, strategy, and roadmap to tap into new markets. Find out how to accelerate the product lifecycle to get fast feedback and quickly deliver exceptional products and solutions that delight customers – all while aligning with your organization's strategy, portfolio, evolving architecture, and solution intent.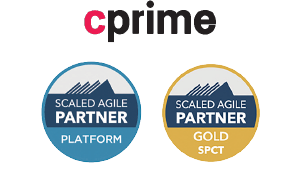 Cprime is proud to be a Gold SPCT and Platform Level partner with Scaled Agile, the exclusive certifying body for the Scaled Agile Framework. Attending this class and passing the qualifying exam will earn you the SAFe Agile Product and Solution Manager (APSM) certification.
Duration
3 days/24 hours of instruction
Public Classroom Pricing
GSA Price: $1967.35
Group Rate: $2395
Private Group Pricing
Have a group of 5 or more students? Request special pricing for private group training today.
Download the Course Brochure
Analyzing your Role as a Product Manager in the Lean Enterprise
Continuously Exploring Markets and Users
Driving Strategy with Market Segmentation
Using Empathy to Drive Design
Defining Product Strategy and Vision
Creating Roadmaps to Build Solutions
Delivering Value
Managing Value Stream Economics
Creating Innovation in the Value Stream
Product managers and directors of product management
Product marketing managers, project managers, Product Owners
VP of Product Management, Business Owners, Business Analysts
Product leaders collaborating with product management, architects, subject matter experts, and business line managers
Use Design Thinking to achieve desirable, feasible, and sustainable outcomes
Explore market needs, segmentation, sizing, and competitive landscape
Manage value stream economics, including pricing and licensing
Use empathy to drive design
Apply product strategy and vision
Develop and evolve roadmaps
Execute and deliver value using SAFe
Explore innovation in the value stream
The first step toward becoming a Certified SAFe® Agile Product and Solution Manager is to attend the Agile Product and Solution Management course. This is a requirement, because attending the course provides access to all the study materials and the exam. Note that attending the course does not guarantee passing the exam.
Exam Name: SAFe® 5 Agile Product and Solution Manager Exam
Exam Format: Multiple choice (one answer) or multiple select (2-3 answers)
Exam Delivery: Web-based (single-browser), closed book, no outside assistance, timed
Number of Questions: 60
Passing Score: 45/60 (75%)
Time Limit: 120 minutes
Exam Access: Candidates can access the exam within the SAFe Community Platform upon completion of the SAFe® 5 Agile Product and Solution Management course
Certified SAFe® Agile Product Manager (APM) Schedule
Delivery
Date
Instructor
Register
There are currently no scheduled classes for this course. Please contact us if you would like more information or to schedule this course for you or your company.
Request Private Group Training