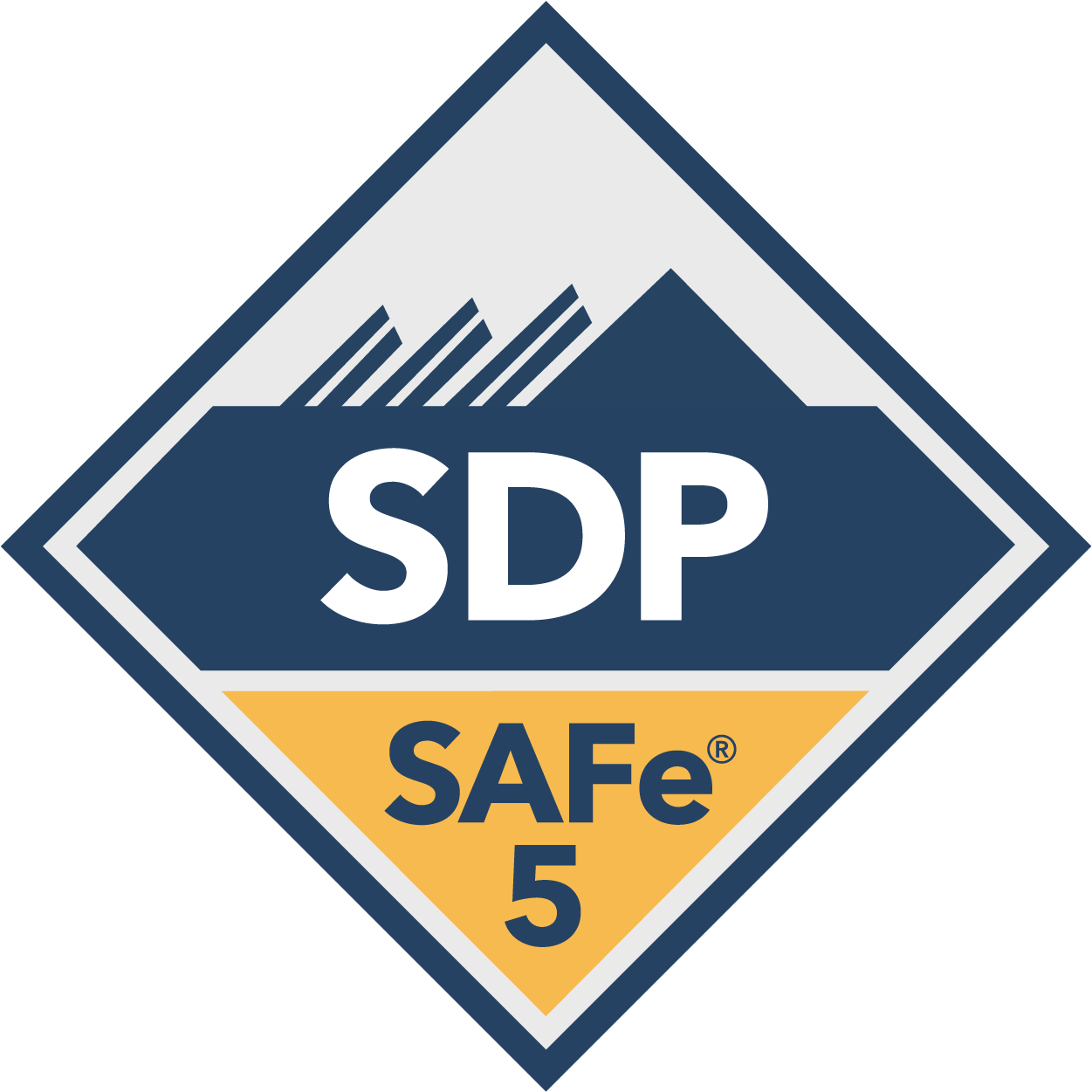 Certified SAFe® DevOps Practitioner (SDP)
Optimizing Your Value Stream Using Proven DevOps Practices
This two-day course provides a comprehensive overview for understanding the DevOps competencies needed to accelerate time-to-market by improving the flow of value through the Continuous Delivery Pipeline. Attendees will map the current value stream through their delivery pipeline from idea to cash, and identify practices that will eliminate bottlenecks to flow. 
The course will build an understanding of the complete flow of value from Continuous Exploration to Continuous Integration, Continuous Deployment, and Release on Demand. Attendees will explore SAFe's CALMR (Culture, Automation, Lean, Measure, Recover) approach to DevOps, which helps create a culture of shared responsibility for the full spectrum of Solution delivery. It helps align people, processes, and technology throughout the organization to achieve faster time-to-market.
Attendees will leave with the tools they need to execute an implementation plan for improving their delivery pipeline, and the knowledge they need to support the plan. Attending the class prepares individuals to take the exam and become a certified SAFe® DevOps Practitioner (SDP).
Cprime is proud to be a Gold SPCT and Platform Level partner with Scaled Agile, the exclusive certifying body for the Scaled Agile Framework. Attending this class and passing the qualifying exam will earn you the SAFe DevOps Practitioner (SDP) certification.
Duration
2 days/16 hours of instruction
Education Credits
15 PDUs
Public Classroom Pricing
GSA Price: $726.35
Group Rate: $895
Private Group Pricing
Have a group of 5 or more students? Request special pricing for private group training today.
Download the Course Brochure
Introducing DevOps
Mapping your Continuous Delivery Pipeline
Gaining alignment with Continuous Exploration
Building quality with Continuous Integration
Reducing time-to-market with Continuous Deployment
Delivering Business Value with Release on Demand
Taking action
Members of an Agile Release Train
Development Managers, Engineering Managers
Configuration Managers, Release Managers
Development Leads, Developers, UI/UX Developers
Infrastructure Architects, System Architects
Product Managers, Product Owners
System Administrators, DBAs, InfoSec
QA Managers, Testers
Release Train Engineers, Scrum Masters
Understand what the CALMR approach to DevOps is, why it is so important, and be able to explain it to others
Understand the importance of continuous integration, continuous testing, and be ready to apply it
Apply the concepts of continuous security
Map the current delivery pipeline
Measure the flow of value through the delivery pipeline
Improve the process of exploring customer needs
Improve the release process
Improve the process of developing, building, and integrating continuously
Improve the process of continuously deploying to staging and production environments
Execute an action plan for a DevOps transformation
Exam name – SAFe® 5 DevOps Practitioner Exam
Exam format – Multiple choice (one answer) or multiple select (2-3 answers)
Exam delivery – Web-based (single-browser), closed book, no outside assistance, timed
Exam access – Candidates can access to the exam within the SAFe Community Platform upon completion of the SAFe® DevOps Practitioner course
Exam duration – Once the exam begins, candidates have 90 minutes (1.5 hours) to complete the exam.
Number of questions – 45
Passing score – 33 out of 45 (73%)
Language – English
Exam cost – First exam attempt is included as part of the course registration fee if the exam is taken within 30 days of course completion. Each retake attempt costs $50.
Retake policy – Second attempt on exam (first retake) can be done immediately after first attempt. Third attempt requires a 10-day wait. Fourth attempt requires a 30-day wait.
Certified SAFe® DevOps Practitioner (SDP) Schedule
Delivery
Date
Instructor
Register
Request Private Group Training