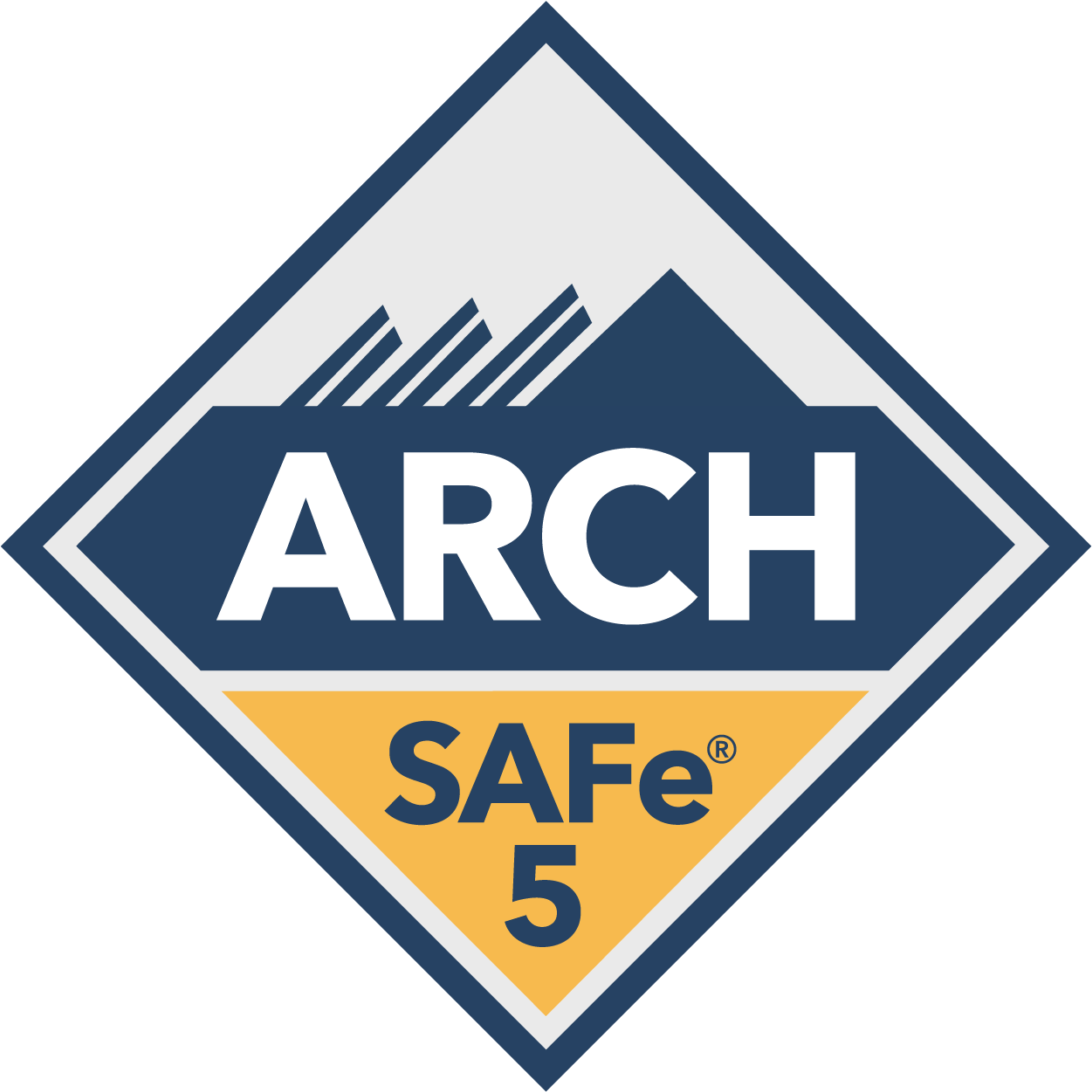 SAFe® for Architects (ARCH)
Attendees can improve collaboration and alignment in a SAFe® Lean-Agile enterprise when they become a SAFe 5 Architect. The SAFe® 5 Architects course prepares System, Solution, and Enterprise Architects to engage across the organization as effective leaders and change agents who collaboratively deliver architectural solutions. During this three-day course, attendees will explore the roles, responsibilities, and mindset of Agile Architects, and appreciate how to align architecture with business value and drive continuous flow to large systems-of-systems while supporting SAFe program execution.
This SAFe 5 Architect training course is for senior technical contributors who need to understand the role of System, Solution, and Enterprise Architects in Lean-Agile enterprises. The course is also appropriate for individuals desiring a deeper view into how architecture enables continuous value flow and how architects engage in and contribute to, a Lean-Agile enterprise.
*Cprime is proud to be a Gold SPCT and Platform Level partner with Scaled Agile, the exclusive certifying body for the Scaled Agile Framework. Attending this class and passing the qualifying exam will earn you the SAFe Architect (ARCH) certification.
Available formats for this course
In-Person
Live Online
Corporate
Corporate Online
Duration
3 days/24 hours of instruction
Education Credits
15 PDUs
Pricing
Starting at: $2495
GSA Price: $1821.35
Group Rate: $2295
Get the full details on this course. Download the .PDF Brochure below:
Part 1: Exemplifying Lean-Agile Architecture
Part 2: Architecting for DevOps and Release on Demand
Part 3: Aligning Architecture with Business Value
Part 4: Developing Solution Vision, Solution Intent, and Roadmaps
Part 5: Preparing Architecture for Program Increment (PI) Planning
Part 6: Coordinating Architecture Throughout PI Planning
Part 7: Supporting Continuous Delivery During PI Execution
Part 8: Supporting New Strategic Themes and Value Streams
Part 9: Leading as an Architect During a Lean-Agile Transformation
System, Solution, and Enterprise architects
Architects in supporting technical disciplines
Experienced software developers
Technical managers making architectural decisions
Product leaders collaborating with architects
Architect using SAFe principles
Align architecture with business value
Develop and communicate architecture vision and intent
Plan architectural runway to enable delivery success
Architect for continuous delivery and Release on Demand
Lead and coach architects and team members during Program Increment (PI) Planning and execution
Provide leadership during a Lean-Agile transformation
Exam name – SAFe® 4 Architect Exam – or – SAFe® 5 Architect Exam
Exam format – Multiple choice; Multiple select
Exam delivery – Web-based (single-browser), closed book, no outside assistance, timed
Exam access – Candidates can access the exam within the SAFe Community Platform upon completion of the SAFe® for Architects course
Exam duration – Once the exam begins, candidates have 120 minutes (2.0 hours) to complete the exam
Number of questions – 60
Passing score – 45 out of 60 (75%)
Language – English
Retake policy – Second attempt on exam (first retake) can be done immediately after first attempt. Third attempt requires a 10-day wait. Fourth attempt requires a 30-day wait.
Reviews of our SAFe® for Architects (ARCH) Course
Great course. Great [instructors], very personable and highly organized
SAFe® for Architects (ARCH) Schedule
Location
Date
Price
Register
Learn more about corporate team training