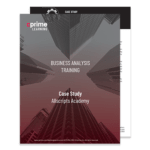 A deep dive into the business analysis training solution that was built and delivered for Allscripts, a global healthcare IT company. Their software development lessons can — and should — be applied to any enterprise SDLC environment. Read more on this business analysis case study.
If you've ever visited the doctor or taken medicine, you were probably only one or two degrees from a healthcare solution designed and sold by Allscripts. If you're in the healthcare sector, you've probably interacted with their products. Starting in 1986 as a medication management company, they've grown into a versatile and diverse healthcare IT solutions company, with more than 7,000 employees and locations across the globe.
Cprime Learning began providing business analysis training to Allscripts on an enterprise program basis in 2012. They are a valued client, but also a special case of how business analysis training can solve enterprise software problems. Why? Because their primary product is software, and they go to market in one of the most complex and highly regulated industries in the world. Therefore, they have faced almost every challenge that any enterprise software development environment is likely to face, and then some. Thus, their experience is a valuable example to any large organization who develops software…whether as a product line or for internal use.
To build the business analysis case study, we had conversations with a number of people who played different important roles at Allscripts, from team leaders and business managers, to the practicing business analysts on the ground.
Download the Allscripts case study today to learn more.
Some of the images used were designed by freepik.com