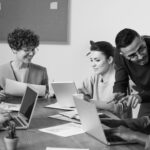 Participatory Budgeting is the Lean Portfolio Management process of allocating the total portfolio budgets to its value streams. It offers Portfolio stakeholders the ability to gain cross-functional participation in portfolio budgeting decisioning while allowing organizations to optimize their investment dollars.
The results is higher quality investments, greater organization buy-in, better ownership of outcomes, improved morale, and better responsiveness to market demands.
Join Deema Dajani, SPCT Advisor and Scaled Agile Product Manager (Scaled Agile, Inc.) and John Kosco, Enterprise Agile Transformation Coach (Cprime), for a valuable 30 minute demo of Participatory Budgeting focusing on:
Gaining alignment and commitment from key portfolio stakeholders
Increasing responsiveness, visibility and understanding future strategic investments
Increasing effective use of investment dollars aligned to outcomes
Speakers:
John Kosco
Enterprise Agile Transformation Coach, Cprime
Deema Dajani
SPCT Advisor & Program Manager, Scaled Agile, Inc.
Watch the Webinar on Demand
Some of the images used were designed by freepik.com