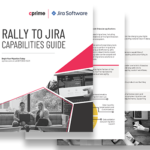 Need to migrate from Rally to Jira, but not confident in how to proceed? Lean on our team of experts to assist you with this process. We offer comprehensive solutions to integrate, migrate, consolidate, or scale Atlassian applications across various environments, architectures, and toolsets.
This guide discusses the benefits of migrating from Rally to Jira and explains how our Atlassian experts can help with your migration.
The guide covers:
Rally to Jira Migration Solution
Benefits of Migrating from Rally to Jira
Jira Services & Solutions
And more!
To begin your Rally to Jira migration, contact Cprime experts today.
Some of the images used were designed by freepik.com