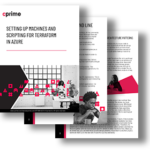 Terraform is an open-source infrastructure as code software tool. It is controlled through a simple command line interface. All the commands are accessed through a single executable file. Although there are quite a few commands, there are only a handful that you will be using on a regular basis.
Download this whitepaper today to take a deep dive into what Terraform is, how to set it up, how to manage its resources, and learn some important commands.
In this whitepaper, we break down:
Key Concepts
The Command Line
Syntax
And more
Download it now!
Some of the images used were designed by freepik.com