SAFe Release Train Engineer (RTE)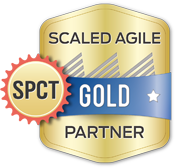 Attendees explore the skills needed to facilitate and enable end-to-end value delivery through Agile Release Trains (ARTs)—and learn how to build a high-performing ART through servant leadership and coaching—by becoming a SAFe® 4 Release Train Engineer (RTE). During this three-day course, attendees will gain an in-depth understanding of the role and responsibilities of an RTE in the SAFe enterprise. Through experiential learning, attendees will examine the RTE role in a Lean-Agile transformation. They will learn how to facilitate ART processes and execution, coach leaders, teams, and Scrum Masters in new processes and mindsets. They will also learn how to prepare, plan and execute a Program Increment (PI) planning event, the primarily enabler of alignment throughout all levels of a SAFe organization.
About the Student
This course is ideal for SAFe Program Consultants, Agile Coaches, Leaders and Managers, Scrum Masters, Program and Project Managers, and Solution Train Engineers.
Duration
The RTE Course is 3 days long, each day beginning at 9am and ending at 5pm.
Prerequisites
While anyone can join the class, those who wish to take the exam and get their certification must have at least one current SAFe certification and have launched or been involved in at least one ART and PI.
Exam Details
The Exam is delivered online through Scaledagile.com The exam is 60 multiple choice questions and has a time limit of 120 minutes. Students have 30 days to complete the exam after the course concludes, and 1 try at the exam. Retakes of the exam are $50.00 with Scaledagile.com. A passing score is 40/60.
Cancellation Policy
All cancellations or date changes must be made at least 10 days prior to the course start date or will be subject to a $150 late-move/cancellation fee. No-shows or same day move/cancellations are non-refundable.
Educational Credits
By attending the 3 day RTE course you will earn 20 PDU's/SEU's that can be applied towards further educational goals. To claim credits a code is provided by Scaledagile.com
Course Location
Course Price
Course Dates
Course Details
CA - San Jose Area
San Jose, CA

$2695

Price: $2495

Good Through: February 26

March 20, 2019 -
March 22, 2019

Register