Agile Release Planning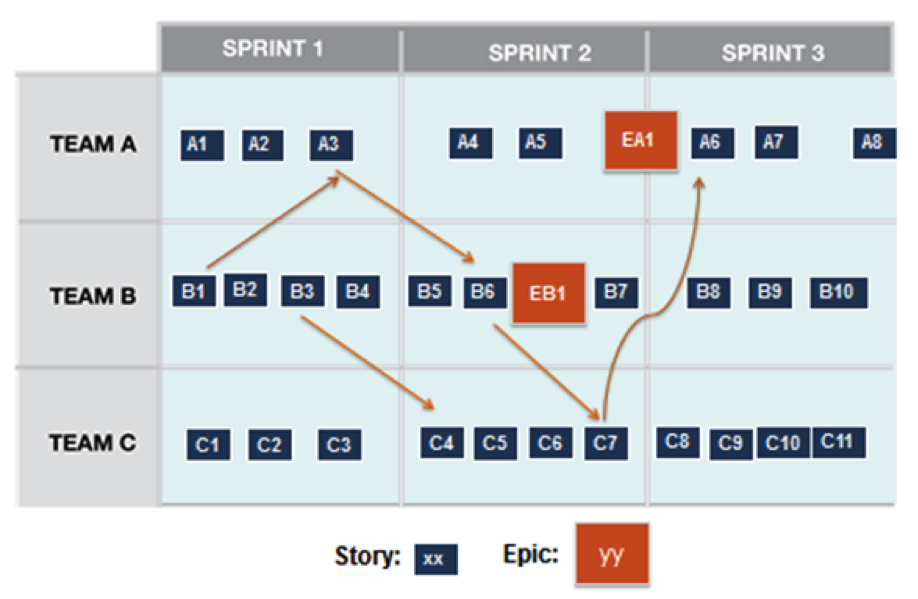 Organizations that use a Scrum process have a number of Scrum Teams that must collaborate to produce products. Issues that arise in moving to a multiple-Team context include release
How to divide a large group of potential Team members into a specific set of Teams
How many ScrumMasters are needed to support the Teams
How many Product Owners are needed to support the Teams
How to develop requirements that span many Teams
How to plan, track, and enable successful coordination of work that spans many Teams
How to balance the competing needs for Product Management for both customer focus and Team focus
How to plan and track work for longer time horizons than one Sprint
The above points are not wholly independent. Successful execution of a long-term plan commonly goes hand-in-hand with all of these points. Before scrum teams can start their first iteration there needs to be an understanding of the scope and schedule of major deliverables of a Product and it's features. This requires understanding a team's velocity in order to plan beyond a single iteration. The Release Planning process and activities include estimate stories, a development team's scope, and epics in a release and then create a rough map of stories and sprints. Every team is different and may be having difficulties with different parts of release planning.
JIRA Program: Dependency Visualizer
This Atlassian plugin lets you visualize your program board or team schedules to understand and plan your releases more effectively.
More Info
Release Planning Coaching
Our coaches help teams through processes such as: story writing, estimation, release planning, or sprint planning. Our coaches understand where the roadblocks are occurring with your team's process and improve their methods through lecture, activities, mentoring and coaching.
More Info
Release Planning Online Course
This online course will help you to write stories, estimate stories, epics in a release and create a rough map of stories and sprints.
More Info
A Real Release Planning Experience
A detailed description of a real release planning experience, for a client just starting out with Scrum. The difficulties and benefits of the experience are common, and provide a realistic introduction to this sometimes-intimidating subject.
More Info