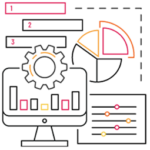 How to embrace the disruption that SAFe® Transformation brings to your teams and create a sustainable enterprise-wide value?
The decision to launch Agile Transformation is usually dictated by a unique combination of organizational goals and challenges that keep you from achieving them. These may include insufficient processes and inappropriate management framework, fragmented collaboration and lack of visibility into the bigger picture, outdated technology, and tools that do not communicate.
Here's a brief overview of all the services that allow Cprime to take a holistic approach to shape your journey to Enterprise Agility while providing a clear answer if SAFe® is the proper framework for you. Learn what Cprime does to help you design long-term strategic vision, harness technology, enable teams, and improve business continuity through SAFe® adoption.
Some of the images used were designed by freepik.com