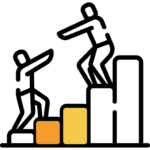 Where do you want to be in your Agile transformation at the end of the year? Do you have a clear plan on how to scale Agile in your organization? Is there the proper tooling to set you up for success and support your journey? Are you sure Jira Align is the right tooling for you at this point?
Scaling Agile is an immense undertaking that requires a holistic approach to implementation. And the complexity of the Agile transformation is often increased by undefined goals, lack of synchronization between teams, and inadequate automation. The Maturity map helps you anchor the starting and target points along your path to Enterprise Agility, define when is the right time for your team to move from Jira+ to Jira Align+Enterprise Insights,  and what coaching will drive your SAFe adoption.
Download our guide or talk to our experts about Jira Align implementation.
Some of the images used were designed by freepik.com