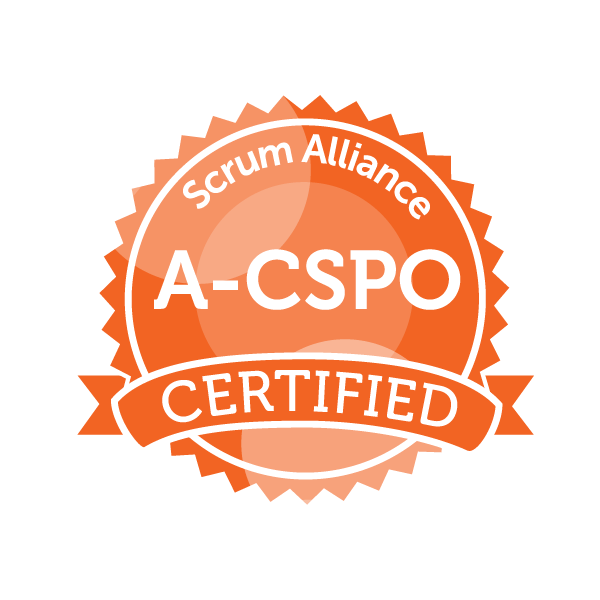 Advanced Certified Scrum Product Owner (A-CSPO) Workshop
Learn techniques and next-level product ownership skills from a senior Scrum Alliance trainer.
Advanced Certified Scrum Product Owner (A-CSPO) is an in-depth, two-day immersion into the world of the Product Owner role on scrum teams as outlined by the Scrum Alliance. The class explores Agile Facilitation and Agile Coaching and how the Product Owner uses these skills to support the team, the ScrumMaster, and the organization.
The class is full of real-world examples with practical tools and techniques that can be implemented immediately at your workplace. It is a deep dive into your role, and you will learn about managing stakeholders, creating and grooming the Product Backlog, and the emerging detail with Product Backlog Items. You will participate in exercises, in-depth discussion, case studies, and techniques to help illustrate practices and principles.
Duration
2 days/16 hours of instruction
Education Credits
16 PDUs
Public Classroom Pricing
Private Group Pricing
Have a group of 5 or more students? Request special pricing for private group training today.
Part 1: Product Owner Core Competencies
Part 2: Examining the Product Owner Role
Mindset of the successful Product Owner
Techniques to interact with Stakeholders over multiple Sprints
Open discussion and listening methods with stakeholders
How to facilitate final decisions
Part 3: Working with the Development Team
Why the Product Owner should be cautious of accumulating technical debt.
Technical practices to help Scrum Teams create a better product
Increment and reduce technical debt each Sprint.
Part 4: Product Ownership with Multiple Teams
Recognize how to effectively scale Scrum
Visualize, manage, and reduce dependencies
Part 5: Advanced Purpose and Strategy
Developing Practical Product Strategies
Part 6: Empathizing with Customers and Users
Customer Research and Product Discovery
Part 7: Advanced Product Assumption Validation
Part 8: Advanced Techniques for Working with the Product Backlog
Differentiating Outcome and Output
Defining Value
Ordering Items
Individuals must hold a Certified Scrum Product Owner certification (with the Scrum Alliance) and be able to validate at least 12 months of work experience.
IT Leadership (Managers/Directors/VPs/CIOs/CTOs)
Project Managers/Business Analysts
Please note: This course has an Attendance and Virtual Camera Requirement
Attendance is required throughout the duration of this course. Instructors will verify each student's attendance and participation to ensure course completion.

Webcam usage is required by all students
Explain Agile and Lean Values and Principles, so that you can better appreciate Scrum
Understand Agile Facilitation, so that you can better support your team
Understand Agile Coaching, so that you can coach your Team, Product Owner and Organization
Explore self-organization, so that you can support your Development Team in becoming Self Organized
Explore team dynamics, so that you can help your team work together better
Explore Definition of Done, so that you facilitate your team creating one
Advanced Certified Scrum Product Owner (A-CSPO) Workshop Schedule
Location
Date
Instructor
Register
Request Private Group Training