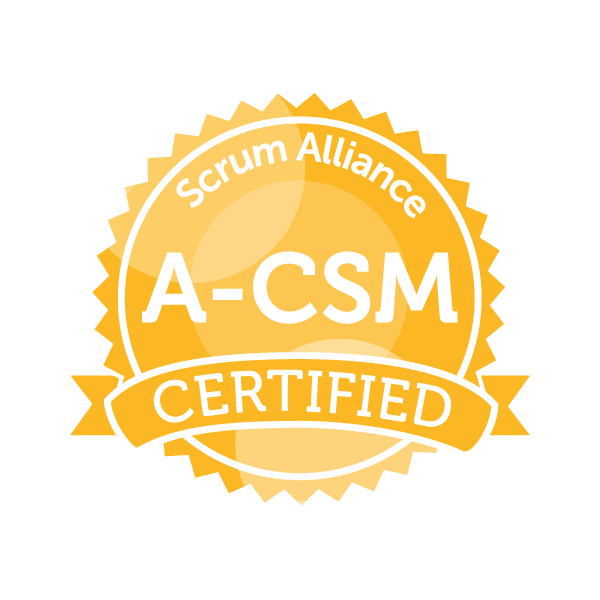 Advanced Certified ScrumMaster (A-CSM)
Advanced Certified ScrumMaster (A-CSM) is an in-depth two-day immersion into the world of the ScrumMaster role. The class explores Agile Facilitation and Agile Coaching and how the ScrumMaster uses these skills to support the team, the Product Owner, and the Organization. The class is full of real-world examples from the attendees' experiences and coaches attendees through practical tools and techniques that can be implemented immediately at your workplace. The class is a deep dive into your role as a ScrumMaster and the hands-on activities and exercises demonstrate key concepts and let you experience the next level of Scrum firsthand.
*Please note, there is no exam for the A-CSM certification. The certification requirements have recently changed. Please visit the Advanced Certified ScrumMaster (A-CSM) certification page for more information.
Customer Testimonials:
"This class was outstanding and I was pleasantly surprised by how relevant the content was. I left the class feeling rejuvenated and ready to tackle all of my team challenges and with the feeling, I have the tools to do it." - J. Mckinney
Available formats for this course
In-Person
Live Online
Corporate
Corporate Online
Duration
2 days/16 hours of instruction
Starting at: $995
Get the full details on this course Download the .PDF Brochure
Part 1: Lean, Agile, and Scrum
Agile and Lean Values, Principles, and Worldview
Empirical Process Control
Part 2: Agile Facilitation
Basic Facilitation
Part 3: Agile Coaching
Coaching Fundamentals
Part 4: Service to the Development Team
Self-Organization
Team Dynamics
Definition of Done
Value of Engineering Practices
Part 5: Service to the Product Owner
Coaching the Product Owner
Part 6: Service to the Organization
Resolving Impediments
Scaling Scrum
Organizational Change
Part 7: Scrum Mastery
Personal Development
Servant Leadership
Individuals who have been in the ScrumMaster role for at least 12 months
IT Leadership (Managers/Directors/VPs/CIOs/CTOs)
Project Managers
Reviews of our Advanced Certified ScrumMaster (A-CSM) Course
[The instructor] is a professional. Captivating, intelligent, and all around subject matter expert.
Angela is awesome!!! One of the best courses I have attended in the past 27 years. She is very knowledgeable, facilitates extremely well and is funny as hell :>)
Enjoyed the course and the materials were very informative. Loved Angela's real-life knowledge and case scenarios. Definitely feel more confident going back to my job with the tools and tips she has given me. Will definitely be recommending this to the Scrum Masters I work with.
Angela is an OUTSTANDING instructor with an obvious passion for the subject. She makes it fun to learn.
WOW! Angela was awesome. I really enjoyed her teaching style, her knowledge, and her enthusiasm. She made the entire experience very easy to follow and be involved.
Advanced Certified ScrumMaster (A-CSM) Schedule
Location
Date
Price
Register
Learn more about corporate team training