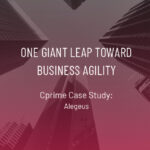 One Giant Leap Toward Business Agility
Alegeus operates the industry's largest and most comprehensive consumer healthcare funding platform. Its proprietary technology powers health savings accounts (HSAs) and similar tax-advantaged accounts for more than 225,000 employer groups. They touch more than 30 million consumers. Additionally, the company owns a full 40% of the benefit accounts in the market, processing more than $9.1 billion in annual healthcare payments.
Both a cause and effect of this industry-leading position, Alegeus has grown quickly since the founding of MBI Benefits just 23 years ago. Today, their development organization is more than 200 strong. Following an acquisition by Vista Equity Partners and a thorough review of the current state and planned journey, Vista recommended a transformation to SAFe®, an Agile DevOps methodology.
The Challenge
"In the world where productivity, quality and time-to market of innovative software define success of a technology company, old ways of delivering with longer cycles and in waterfall methodology did not work for us anymore" said Kirill Izotov, VP of Engineering at Alegeus. "Inefficiency was starting to erode the team's effectiveness."
With that in mind, Izotov began researching potential solutions that Alegeus could pursue to streamline and accelerate the transition to a new culture and a new way of ideating, planning and behaving at all levels of the organization — executive, middle-management and professional. Change management was the key to success, as well as a choice of the transformation partner.
In the end, Alegeus was very diligent in selecting a partner who could help them structure their SAFe® transformation program. In addition, they wanted to be sure the partner selected could assist in training and coaching on all levels of the organization, and new tools implementation. After vetting several key players in the market, Cprime became a company of choice. This was because Cprime "met all the
criteria – from the range of services to quality of specialists, and to references from previous successful engagements," according to Izotov.
The Plan: Agile SAFe/DevOps Transformation
Alegeus further honed their motivations to the following:
Be more strategic and data-driven
Build a more stable, robust IT infrastructure that could support future growth
Bring in new tools and technology to improve how they develop software
Reduce technical debt, simplify and create process efficiencies
Move from being a project-focused to a product-focused organization
Continue industry leadership based on a culture of innovation
Ultimately, this clarity allowed Cprime consultants to propose a holistic, three-pronged approach that could quickly and effectively address the unique challenges faced by the client, involving:
DevOps Transformation
Product Agility
Agile SAFe® Transformation

Download the full whitepaper today!
Some of the images used were designed by freepik.com