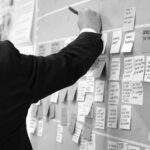 Project-based thinking and process is often the largest inhibitor of achieving agility. It explains why the notion of 'Project to Product' has gained such popularity, to the point of even becoming a buzzword in recent years.
Despite the enthusiasm about becoming a product-driven organisation, many companies still hang onto their old project-based ways due to some "big rock" constraints, including funding and separation of IT and business.
So, what can you do to make a successful shift?
Join Anne Steiner, CEO at Cprime, to explore the challenges you may face in your product agility journey, and how to overcome them. We explore:
Common constraints you may encounter when shifting from project to product and how to address them
How to shift to product-based funding models
The role of the product manager
Benefits you'll experience with true product agility
Speaker:
Anne Steiner
CEO at Cprime
Watch the Webinar on Demand
Some of the images used were designed by freepik.com