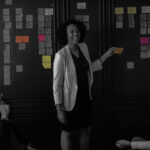 This organization is a large, publicly traded Property & Casualty (P&C) and commercial insurance company with operations in the U.S. and more than 50 countries and territories.
Of course, being at the top, especially in a highly competitive industry, doesn't come easy. At that size and scale, aligning people internally to effectively address external issues and changing market forces is a constant need. One of the most common challenges Cprime keeps coming across when working with large and successful companies is the difficulty they have moving fast enough to successfully pivot with the speed of change that defines modern business (and life).
In the following case study, we will review the historic situation at this organization and what led to their initial exploration of Agile. We'll cover why they reached out to Cprime for help and how we worked with them. Finally, we'll review the phenomenal progress they've made and lessons learned along the way.
Download this case study today to learn about the power of Cprime's Agile and SAFe® training and coaching programs, along with how to effectively pilot a SAFe® transformation.
Some of the images used were designed by freepik.com