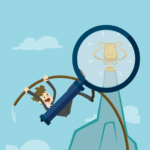 Discover how Agilent, the leader in life sciences, diagnostics and applied chemical markets, undergoes a division-wide Agile transformation with Cprime's RAGE framework
In early 2015, Agilent's Software & Informatics Division set a new priority: Improve the predictability of the group's performance.
The need was clear. At one meeting to review the readiness of software two months in advance of its release, the team discovered 185 points in a backlog that had not been put into the scope of work. The product, already more than a year in development, was delayed another 4 months. The case wasn't an anomaly. The organization was meeting fewer than 20 percent of its release deadlines.
"We needed to change significantly the way various functional silos coordinated to build products," says John Sadler, VP and General Manager of the division. He proposed an Agile transformation and in August 2015 greenlighted a coaching relationship with Cprime that included a JIRA project management software integration. One year later, when the division released next-generation software to support Agilent's chromatography data systems, it was the first time anyone in the organization could remember delivering on schedule.

Some of the images used were designed by freepik.com