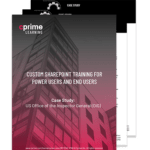 Highlighted Results:
From the SharePoint training conducted, employee usage increased from negligible to 50% within the first two months following the training
Higher level power user training enabled OIG to continue to train internally without Cprime Learning's help
The Challenge
Like many organizations, the OIG invested substantial time and effort into their SharePoint training deployment, only to quickly see that end user adoption was lacking. Although everything on the technology side had been done correctly, end users in the agency did not adopt the new tools. It was an archetypal example of a large SharePoint implementation that yielded little benefit to the organization.
From an end user point of view, effort is measured in the clicks it takes to navigate a task, and the seconds it takes to do. For example, even in today's age of technology literacy and advanced UX design, users won't spend time learning new places to click. Even simple tools won't be adopted if a nominal amount of time isn't taken to guide someone through a tour of new functions, and how to efficiently combine them into a process.
The Solution
Like many other Cprime Learning enterprise SharePoint training customers, the Office of the Inspector General required a full complement of supportive services in order to make sure their training investment paid off. We began the process with due diligence and consulting, analyzing the OIG's organizational processes and mapping training classes accordingly. Throughout the program, a priority of the partnership was establishing and monitoring benchmarks of success in order to make sure initial requirements were met.
This upfront analysis and curriculum design, combined with a structured monitoring process, allowed the training program to be verifiable and goal driven. If adjustments were needed or challenges occurred with benchmarking, Cprime Learning experts were on hand to provide follow-up coaching and verification that the SharePoint product and the user skills were being adopted as intended.
Download the case study today to learn more.
Some of the images used were designed by freepik.com