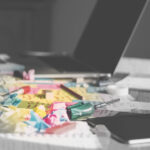 As your strategic planning group edges closer to the end of the traditional 2020 planning period, Portfolio Managers' work begins in earnest to start prioritizing the long list of wishes from your intake process, aligning them to the strategic funding buckets, and forecasting how much can be achieved.
How does your organization select the "most bestest" ideas, align them with strategy and begin to prioritize that long list into an achievable set of value to be delivered to the organization?
Watch the webinar to learn how Jira Align can help you achieve this, using Lean Portfolio Management practices.
Watch the Webinar on Demand
Some of the images used were designed by freepik.com