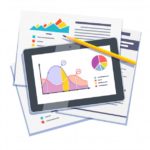 DevOps solutions for business agility and cloud computing are tying together increasingly complex tools, environments and solutions that can be challenging to manage and monitor. To check on the health of your processes you need to be constantly tuned into your source code, artifact management, continuous integration, delivery and deployment, static code analysis, security analysis, monitoring health, infrastructure, and test automation, just to name a few.
In addition to monitoring the health of your release pipeline, you also need big picture metrics that can measure the value you are delivering to the business and highlight where your current bottlenecks are. If you don't have your finger on the pulse of your organization, you could already be in trouble.
Two types of DevOps metrics dashboards are needed. One to view the real-time health of your delivery and operations pipeline, and another to go beyond measuring deployment lead time and start measuring end-to-end lead time.
Come see how to aggregate your view of the DevOps world in practice.
Top 3 things you will learn on this webinar:
**Which dashboards you need for optimizing CI/CD and value delivery
**Best practices adopted by the Fortune 100 to achieve these metrics (Which DevOps metrics does Silicon Valley use to measure success?)
**Successfully combining metrics of varying granularity to provide a full, up-to-date picture of your development pipeline
Watch the Webinar on Demand
Some of the images used were designed by freepik.com