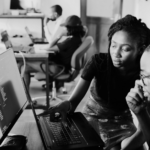 The Dojo model provides an immersive learning experience that can help teams internalize training, improve skills and create new productive habits. Using this model, companies around the world are building creative spaces where teams experience first-hand the benefits of Agile, DevOps, Cloud and Product-oriented thinking.
While it may be challenging to see what it really looks like while we're social distancing, Dave Laribee, Head of Dojos and Strategic Advisor, and Nate Ashford, Strategic Technical Coach, offer a virtual Dojo tour, highlighting:
What a Dojo looks and feels like
How it works
Why it matters
How it aligns with training, coaching and other methods
Gain an understanding of the Dojo model, the principles behind it, what to expect from it, how to measure success, and how to blend it effectively into your transformation efforts.
Watch the Webinar on Demand
Some of the images used were designed by freepik.com