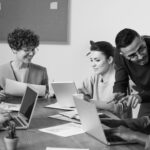 Hear from leaders in the workforce as they share obstacles overcome and lessons learned from climbing the career ladder to positions of power and influence. Listen to their stories and be inspired to continue barreling a wider path forward and upward for men and women and their careers.
Theme: 3 Expert Panelists Share Agile Paths and Real Transformation Experiences
You know what an agile organization is, and why it's important. But figuring out how to pull off an agile transformation is another question. Even more importantly, it is necessary for leadership to lead the way by example and truly commit to the health of their people. Hear from experts Joanna Tivig (BMO Financial Group), Tetyana Dudnyk (CIBC), and Guillaume Girard (Croesus) as we explore their blueprints along with changes they experienced with people, process, and technology in their own organizations.
Speakers:
Tetyana Dudnyk
Director, Contact Centre Technology PMO
CIBC
Joanna Tivig
Agile Advisor & Coach
BMO Financial Group
Guillaume Girard
VP of Software Engineering
Croesus
Watch the Webinar on Demand
Some of the images used were designed by freepik.com