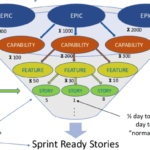 Are you struggling with long term planning for your agile teams? Is it getting to the point where tensions exists between Leadership (who are asking for firm commitments on delivery dates) and the teams (claiming that "this is not how agile works")?
Clearly, a good balance is required: A balance between the flexibility in scope and delivery schedule that we need to afford our development teams to maintain their agility and the expectation of the business to receive reasonably accurate forecast of the awaited business capabilities.
It is therefore important for delivery teams to demonstrate continuous improvement in their ability to forecast the delivery of business capabilities within a reasonable level of accuracy without forcing them into unnatural practices.
In this webinar, you'll:
Learn how normalized story points can help support improving long term planning at all levels of the organization.
Explore the trade-offs of different approaches and address the perception that this approach violates some tried-and-true practices, such as not comparing points across teams.
Watch the Webinar on Demand
Some of the images used were designed by freepik.com