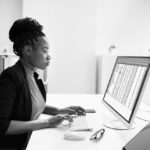 Let's Talk About _____ with the Cprime SAFe Fellows is an ongoing global webinar panel series with Cprime's SAFe Fellows and SPCTs that will cover a variety of advanced SAFe topics.
It's impossible to remain competitive in today's market without every business unit in your organization fully embracing the tools and ways of working that support speed to market, rapid innovation, and resilience to market conditions that are constantly changing.
That's why so many organizations have embraced scaled agility using the Scaled Agile Framework® (SAFe®): its logical, scalable approach to complete business agility has proven exceptionally effective—even in the tricky realm of enterprise finance.
In this roundtable discussion, SAFe Fellows, Ken France, Darren Wilmshurst, and Isaac Montgomery, discuss how Finance fits into and supports a SAFe enterprise, and how change agents can partner with Finance to support business agility. You will learn:
How they have helped organizations move from traditional, project-based funding to lean, value stream funding
Tips for navigating a scaled Agile transition and pitfalls to avoid
How financial governance and control is enhanced through lean budgeting
The importance of partnering with Finance early-on and continuously during a transformation
Speakers:
Ken France
VP, Enterprise Agility, SAFe Fellow & SPCT
Cprime
Isaac Montgomery
SAFe Fellow & SPCT
Cprime
Darren Wilmshurst
Director, SAFe Fellow & SPCT
Cprime
Glenn Smith
SAFe Business Agility Consultant and Trainer, SPCT
Cprime
Watch the Webinar on Demand
Some of the images used were designed by freepik.com