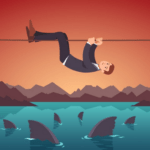 Scaling, Cultural Change & Planning
Having trouble scaling your agile projects?

Having problems integrating agile into your corporate culture?

Is your transformation failing because of improper planning?

Are you struggling with adoption, but don't know why?
Transformation is not easy.
Join us for a highly interactive and customized agile webinar that will uncover the most prominent, common and troubling roadblocks experienced by organizations trying to adopt agile and will offer solutions to overcome them!
This discussion will be driven by your, the audience's, input regarding the most pressing obstacles in an Agile Transformation.  Agile Coach and Trainer, Michael De La Maza will tackle your issues and discuss solutions and techniques to offset your impediments and help you succeed. Ask questions and get answers from an Agile Expert!
Watch the Webinar on Demand
Some of the images used were designed by freepik.com