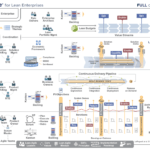 Scaled Agile Framework® Overview
Do you have highly functional scrum teams but are wondering how to get them to work in sync with each other, or wondering how get "start-up" efficiency in a large enterprise? Or maybe you just heard that the Scaled Agile Framework for the Enterprise (SAFe®) is gaining traction and you want to find out more about it. Before the year is out, we want to give you a primer on SAFe, so you can decide if it should be on your list of resolutions for the new year!
We continue to see that Agile and Scrum deliver value and are catching the eyes of leadership individuals. But how does a large enterprise thrive with a Scrum framework that was made for 5-9 individuals? SAFe has garnered a lot of attention as a potential framework for enterprises with large product teams (5 or more scrum teams on a product line). It calls for the overall alignment throughout the organization so that the Scrum teams making up a large product development team can deliver valuable, high quality product increments with transparency and technical excellence. The program execution is achieved by leveraging the existing Scrum Team practices and interfacing with the higher Program and Portfolio layers in the organization.
cPrime SAFe coach, Sri provides an overview of the SAFe framework and show why it appeals not only to the engineers and architects, but also to the product management, customer support and the executive team.
Watch the Webinar on Demand
Some of the images used were designed by freepik.com