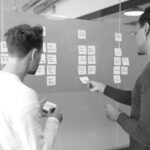 Do you find that your strategy is driven by disparate decisions and personal agendas?
Do you find that, although seemingly a lot of stuff gets done, it never amounts to much?
Have your products or services been struggling to maintain momentum in the market?
Are you noticing lower employee engagement during COVID?
If so, your North Star might be a black hole.
Maybe it's time to hit the reset button and to envision what your North Star needs the most. Spoiler…your North Star is a who, not a what.
During this webinar, AJ and Scott shares the 3 things product leaders can address to bring their company back into focus. We explore:
Cultivating customer curiosity in order to solve your product challenges
Getting clear on what real collaboration looks like and why it's essential to the success of your company
Empowering teams for success through organizational structure and tooling
Speakers:
AJ Joplin
Product Coach, Cprime
Scott Seivwright
Agile Coach, Cprime
Watch the Webinar on Demand
Some of the images used were designed by freepik.com