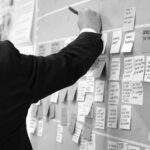 A Product Owner serves as the bridge between the development team and stakeholders, steering the product's vision and driving its success. An excellent product owner can elevate the entire product team. But how do you find the right person to take on this vital role?
Hiring external candidates with Product Owner expertise is an option, but many organizations overlook an often easier and more effective opportunity: to train or develop their internal employees for these crucial roles.
Upskilling your existing product professionals can be the most time- and cost-effective option. Plus, they offer in-depth domain knowledge—specific to your unique organization—no outside hire can match.
By the end of the webinar you will know:
How to identify existing employees that have the mindset and institutional knowledge to successfully fill the Product Owner role
How to determine what skills the new Product Owner needs to learn through a focused gap analysis
How to create an environment that encourages continuous learning so that they can grow into the role and help you and your team deliver great products over time
Speakers:
Duane Kenney
Product Coach
Cprime
Devin Anderson
Product Strategy Coach
Cprime
Jerry Odenwelder
Product Coach
Cprime
Watch the Webinar on Demand
Some of the images used were designed by freepik.com