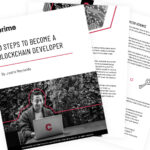 Learn what it takes to break into one of the fastest growing professions, Blockchain Development.
The blockchain market, by all accounts, is on fire. The industry is expected to grow to $23.3 billion by 2023. While blockchain hasn't yet made it to the big leagues, organizations are increasingly investing in the new technology and building blockchain-powered applications on top of it. In fact, 74 percent of organizations believe their businesses will benefit from blockchain technology – many just aren't sure precisely how.
This all sounds great, but there's just one problem: the demand for blockchain developers continues to increase at a rapid clip, but the supply of talent is struggling to keep up.
If you're wondering how to become a blockchain developer, there's no better time than now to begin your journey. Download our guide and follow these ten steps to learn the blockchain developer skills you need to get started on a new career path that promises wealth, prestige, and opportunity to change the world.
Some of the images used were designed by freepik.com