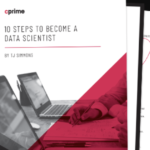 Every day, there is more and more news confirming that data science is one of the fastest growing job markets. The hype is so strong that some even question whether or not it's just a fad. The short answer is no.
Data is no longer just an afterthought for IT to handle. The Data Scientist role requires analysis, creativity and a knack for translating high-tech ideas into new ways to create profit.
With new technology being invented every day, it can be hard to keep up with the changes in the data science field.
To help navigate the growing field amidst all the daily noise, Cprime has put together a 10-step guide that will get you on the fast track to becoming a data scientist.
Some of the images used were designed by freepik.com