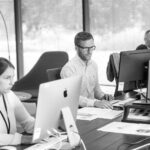 Put Your Customers First and Deliver 'White Glove' Service
Embracing ongoing change with Agile and DevOps frameworks enables product development teams to learn faster and pivot easier to deliver more value to the users with every iteration. IT Service Management (ITSM) extends and solidifies this change management approach as it adds an essential piece – user voice – allowing customers to have a direct influence on digital experiences, quality of service delivery, and product roadmaps.
Atlassian's ITSM platforms, like Jira Service Management, offer automation, integration, workflow management, and reporting tools that enable organizations to create, manage, deliver, and scale those ever-evolving digital experiences through service desks and IT operations teams.
Learn more about Cprime's end-to-end ITSM solutions by downloading our solutions guide.

Some of the images used were designed by freepik.com