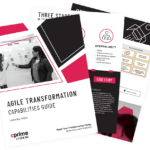 Our Agile transformation solutions are designed to ensure the successful implementation and utilization of Agile methodologies. This guide walks you through the steps necessary to equip your teams with the skills and knowledge to implement Agile, scale, and maximize its value across your organization.
Whether you're just getting started, optimizing and scaling, or focusing on complete enterprise Agility, we're here to help you reach your full potential.
This guide focuses on our capabilities to help you across three stages of your Agile transformation:
Getting Started

Assess your current Agile readiness and launch the groundwork for team success. This stage addresses Agile culture, knowledge, organizational support, stakeholder conflicts, and much more.
Optimizing Agile

Build Agile skillsets, hone existing skills, and leverage new tools to empower existing Agile teams and develop new Agile teams.
Enterprise Agility

Scale Agile to your program and portfolio levels to create a true Agile enterprise.
Some of the images used were designed by freepik.com