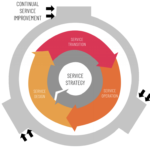 Can DevOps and ITIL coexist? This is a reasonable question when you compare the dynamism of DevOps with the methodical, conservatism of ITIL.
When ITIL is implemented precisely as it is described in the books, implementing DevOps would indeed be impossible, but this is not because the two are incompatible.
Even though there has not yet been an ITIL update that addresses DevOps, we can use the guidance contained in the ITIL Continual Service Improvement (CSI) lifecycle stage coupled with a careful reading of the various ITIL Processes to uncover how DevOps can work in an ITIL shop.
Some of the images used were designed by freepik.com