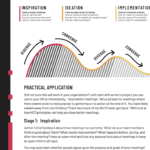 Human-centered design (HCD) is a mindset that approaches problem-solving with a focus on users. HCD requires designers to start projects from a place of empathy to make sure what they create is something people truly need. There is some overlap with Design Thinking, an approach to innovation that uses creative problem-solving.
This whitepaper breaks down human-centered design into three feasible steps:
1. Inspiration: With this approach designers purposefully forget what they think or know and instead learn from scratch based on interaction with identified users.
2. Ideation: You and your team are encouraged to come up with all possible ideas without any limitations. Even if something seems completely ridiculous, it is still good to document it and dig into it because it could be the starting point for a more practical idea.
3. Implementation: Even when it's time to implement, you're not fully complete with your project. Ideally, you start with a pilot or beta launch and continue iterating, getting feedback afterward to make sure what you believe is a long-term solution holds.
Download it now to learn more!
Some of the images used were designed by freepik.com