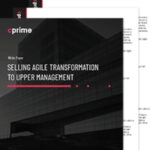 Although most organizations know that the ability to release a new product or new feature is imperative to their success, many of them are still working in a way that hinders their ability to create products and features consistently, release easily, and still meet marketplace and customer expectations.
Every day, change agents around the world are implementing Agile in order to change that. While the benefits of doing so can be significant, it is not always easy to get executives on board with an Agile transformation. Many will be resistant to change and need convincing that Agile is right for their organization.
This report dives into challenges that most change agents face, and strategies for overcoming those challenges and successfully selling your case to upper management.
In this guide, we will explore:
Challenges
A New Way – The Agile Way
Pitching Agile to Upper Management
Teams "Doing Agile" Does Not Make Your Organization
Implementing a Change Model
Next Steps in Your Agile Transformation
Make a Plan and Get Started
Some of the images used were designed by freepik.com