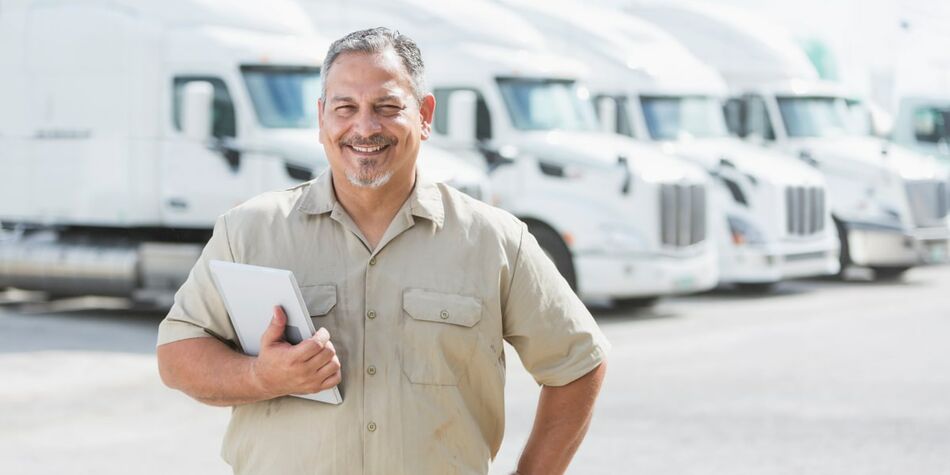 Should you get a custom fleet management system, or you are okay with off-the-shelf system without extra integrations and customizations? Learn about benefits you can get from your own fleet management software.
What will affect the final price of the custom fleet management software?
Сorporate fleet management requires timely and precise data on the status and the performance of the vehicles and drivers. The rapidly changing environments of a fleet pose challenges that managers have to address, and there are a variety of fleet management software products that have become an essential tool for successful management.
Fleet management solutions are designed to manage, organize and coordinate fleet operations to ensure efficiency, reduce costs and manage a company's mobile assets at any time and in any place. There are also other things a fleet management system (FMS) should be capable of to be a valuable tool.
An FMS should:
Provide insights for the creation of smarter fleet management strategies based on real-time data provided by GPS tracking systems
Optimize fuel and workforce usage and arrange a smooth transition to new fuel types when needed
Optimize logistics, inventory management, and cost structure with big data analytics
Improve the fleet maintenance schedule and enhance diagnostic possibilities thus reducing costs
In another article, we reviewed the standard fleet management system features. They usually include:
Dispatching, scheduling, and routing – allow you to adjust schedules, locate the most efficient routes and maximize dispatch capabilities
GPS tracking and real-time visibility – ensure your managers can get the information they need about any vehicle in the fleet at any time based on the data provided by GPS trackers
Fuel management – allows fleet managers to monitor fuel consumption and related costs
Driver management – lets your team know how fleet drivers perform and provides insights as to how their performance can be improved
Vehicle information and inspection management – provides information related to vehicle specifications, maintenance history, and performance history
Security and safety – fleet safety management tools – ensures protection of a company's vehicles and drivers with the use of telematics fleet management which notifies them of vehicle theft, emergency roadside assistance needs and allows remote monitoring. Also, this feature maintains compliance with major regulations for commercial drivers such as the Compliance, Safety, Accountability (CSA) initiative, Hours of Service (HOS), and International Fuel Tax Agreement (IFTA)
There is a wide range of off-the-shelf vehicle management solutions powered by tracking software which can be used by almost any transportation or logistics company. However, the one-size-fits-all approach is not something that works in a real business environment.
Why Off-the-shelf Solutions Can Be a Bad Match
The insights you get from commercial fleet tracking systems are limited so the generated reports may not cover all performance metrics necessary for efficient vehicle management system.
Lack of visibility means you can miss an issue that can cause problems for your fleet operations. Most driver management software lacks custom functionality, and it cannot be easily tailored for your specific business needs. If you have unique business routines and processes which are not in line with standard out-of-the-box FMS solutions, development of a custom fleet management system might be your best choice.
Benefits You Won't Get in an Off-the-shelf Fleet Management System
Below are some reasons to choose custom driver management system instead.
#1 Smart Budgeting Management
GPS tracking makes fleet management easier by ensuring greater visibility of your assets and related costs. Fuel, maintenance, and safety are the key items that factor into a budget. Based on the analytic tools of a custom FMS you can determine the actual cost of owning and running any vehicle in your fleet, and get efficiency reports which can help you monitor costs.
Analytics tools can also gather information about previous costs to give you insights on which expenses you have to include in a budget, and it defines the areas which need improvement. For example, if you find out that fleet fuel expenses are high, it may be useful to launch a driver training program to change driving behaviors that lead to extra fuel consumption such as speeding and idling.
Smart budgeting features can also help your management team forecast spending while eliminating unnecessary costs based on the telematics fleet monitoring feature. You can also benchmark your budget against previous years or comparable fleets to get further insight on how to save your company money by cutting costs.
#2 Proactive Driver Management
Vehicle fleet management systems powered by telematics can ensure safety and compliance with regulations. By monitoring the telematics, fleet managers can see if drivers take timely breaks by using automated tracking of driving time. Additional devices such as an electronic logging device (ELD) can automatically record driver working time and hours of service (HOS). The US ELD mandate was established in 2018 to control driving hours for commercial motor vehicles.
You can create driver profiles and remotely assess the behavior of individual drivers to reward safe drivers and penalize those that speed or have other poor driving habits. The data gathered and analyzed by the system provides fleet managers with insights into how drivers operate. You can match that information with additional data such as fuel consumption and traffic conditions to define the necessary steps for optimizing the performance of your drivers.
#3 Real-time Business Intelligence and Reporting
Benefits of fleet management system powered by big data analytics allow management to gather relevant information and translate it into actionable business insights while visualizing them via customizable dashboards and reports. You can benchmark your key performance indicators (KPIs), uncover problem areas such as inefficient asset use or low-value processes, and reveal the areas worth optimizing for bigger returns.
#4 Cargo Optimization
This feature allows for better utilization of resources. FMS determines the most efficient load the vehicle can carry and ensures the most effective use of cargo space based on the data related to the volume, weight, and dimensions of the goods being transported. This feature is particularly useful for logistics and transportation companies dealing with less-than-truckload (LTL) or partial truckload shipping. Load optimization features of GPS fleet management software can help managers find the most fuel-efficient loads for each truck in the fleet.
#5 Shipment Management
The shipment management feature of an FMS allows you to manage a fleet's workflow and effectively organize orders, deliveries, and expenses. Scheduling and dispatch capabilities allow you to maximize dispatching and increase schedule productivity and get more jobs done in a timely fashion.
#6 Work Order Management
Shop operations and vendor management are only a part of work order management functionality, which supports all aspects of asset maintenance operations. It allows your staff to create customized workflows tailored to the specific business needs of your company. Electronic work order formats reduce paperwork and can be customized to collect data that is relevant to the operation, type of repair needed.
#7 Custom Integrations
Custom FMS can be designed to be integrated with other back-office products and apps. Custom solutions are developed so they can be integrated into the CRM or sales systems of transportation/logistics companies as these systems are used to process transactions and orders.
It is also possible to integrate an FMS solution with a custom system for monitoring order delivery. For example, if there is a complex corporate structure that produces different products – from raw materials to end-products for example – it may be useful to integrate the FMS with the systems used at every stage along the pipeline. FMS can also be integrated with a financial system to provide a data and statistics export that can be downloaded to an analytics system.
You can reap lots of benefits of fleet management system built specially for you – actually, you can add any feature you want. It depends on the needs of a particular company. Some companies need more detailed analytics, others would like to have better control on drivers, and some would prefer more options for route optimization. It is possible to develop module solutions which a transportation company can offer to its clients.
What Will Affect the Final Price of the Custom Fleet Management Software?
The final price tag depends on many factors, but here are several tips concerning possible add-ons that affect the development cost.
Software integrations, application program interfaces (APIs), etc. Bear in mind that integration with any additional system will take time and money. Integration of an FMS into a system that has technical capabilities will take 50 to 100 hours of additional development.
System complexity – the more complex the system is, the more time and money you will need to develop it. As a rule, an FMS has to be integrated with automotive systems via an on-board diagnostics (OBD) port, support location tracking via GPS, and transmit data in a timely fashion. This means high server load and large data volumes to store Business intelligence (BI), big data, and real-time solutions require more resources.
Type of storage for fleet data management – if you plan to develop an on-premise solution, you'll have to purchase and maintain servers, while cloud solutions allow for a quick start and the possibility of expansion later on.
Software size – to develop a minimum set of features without mobile apps for drivers (which can be developed later upon system expansion) will take about 2,000 hours or 3-4 months of teamwork. Further development scope depends on the customer's plans and budget. The stage of drivers management software development is even more important in pricing. If it is a start-up and the product has good potential, you have to develop a set of necessary standard features plus several key differentiators that will make your product unique. That will cost you a moderate sum of money. If it's a large-scale company, which needs to develop its own fleet management system with numerous benefits, the price tag will differ by the number of features needed.