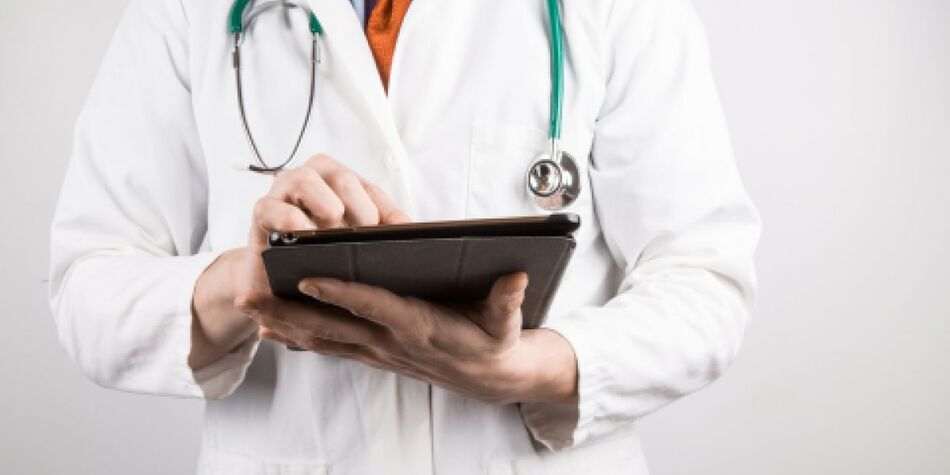 Read this article to know more about the main use cases of big data healthcare use cases. Do you get all the benefits from that data? Its correct use can improve dozens of processes in your institution.
Fiscal concerns are one of the key factors driving the US healthcare system reform. In 1996, Congress passed the Health Insurance Portability and Accountability Act (HIPAA) to enhance the health care system as a whole by making it more efficient, simpler, and less costly. President Obama then signed the Health Information Technology for Economic and Clinical Health Act (HITECH Act) into law in 2009 to stimulate the adoption of electronic health records (EHR). Under these laws, healthcare providers are also shifting from fee-for-service payments to value-based, data-driven incentives. This move is aimed at improving patient care and treatment outcomes, while decreasing care costs.
Why does this apply? The answer is simple. These reforms require hospitals and providers to manage healthcare data more effectively and to use state-of-the-art technology for healthcare analytics. A dazzling array of healthcare data is collected by the industry and the volume of data is growing at an exponential rate. Healthcare providers have already moved towards digitized care using EHR and EDI transactions. The number of data sources in healthcare is also growing. The Internet of Things and other technology developments fostered the growth of new data sources, such as various wearable devices and sensors, and even smartphone applications.
The volume of data being generated is also affected as imaging reports and lab tests (including genetic studies) get more and more detailed. But until recently, there was a big part of the puzzle missing – the piece that links all the data together. Big data can be a magic pill for the healthcare industry as it can gather information from disparate sources and analyze it.
Big data applications go far beyond the retroactive reporting the industry is used to and brings data management options and predictive capabilities that can benefit both care providers and patients to the table. By McKinsey's estimate, the systematic application of big data analytics to the US healthcare system could reduce industry spending by $300-$450 billion annually.
THE USE OF BIG DATA IN HEALTHCARE
The potential of big data in healthcare is clearly visible – it can predict epidemics, prevent diseases, provide medical insight, improve quality of life, and avoid preventable deaths. There are some distinct trends in the application of big data in healthcare. It is used to:
Create value-based, patient-centric care
Reduce fraud and abuse
Perform predictive analysis
Monitor patients in real-time
Today the health care system in the US is shifting toward evidence-based medicine, and this means all the clinical data must be available for analytics. To get insight into a better quality of care and care coordination, and to put patients into the treatment process, it is necessary to capture all the information about a patient and aggregate individual data sets into big-data algorithms. Big data healthcare analytic platforms can uncover trends that can help health care facilities save lives and predict problems. Connecting the dots and gaining an integrated view of the patient also reduces redundancy and expensive testing, choosing better treatment strategies, and reduces errors when prescribing drugs, eliminating unnecessary readmissions and avoiding preventable deaths.
Let us consider some big data healthcare use cases in more detail.
5 BIG DATA USE CASES IN THE HEALTHCARE INDUSTRY
There are many use cases for big data in the healthcare industry. It can help us to make improvements for financial management, different types of researches, or search for new ways of treatment.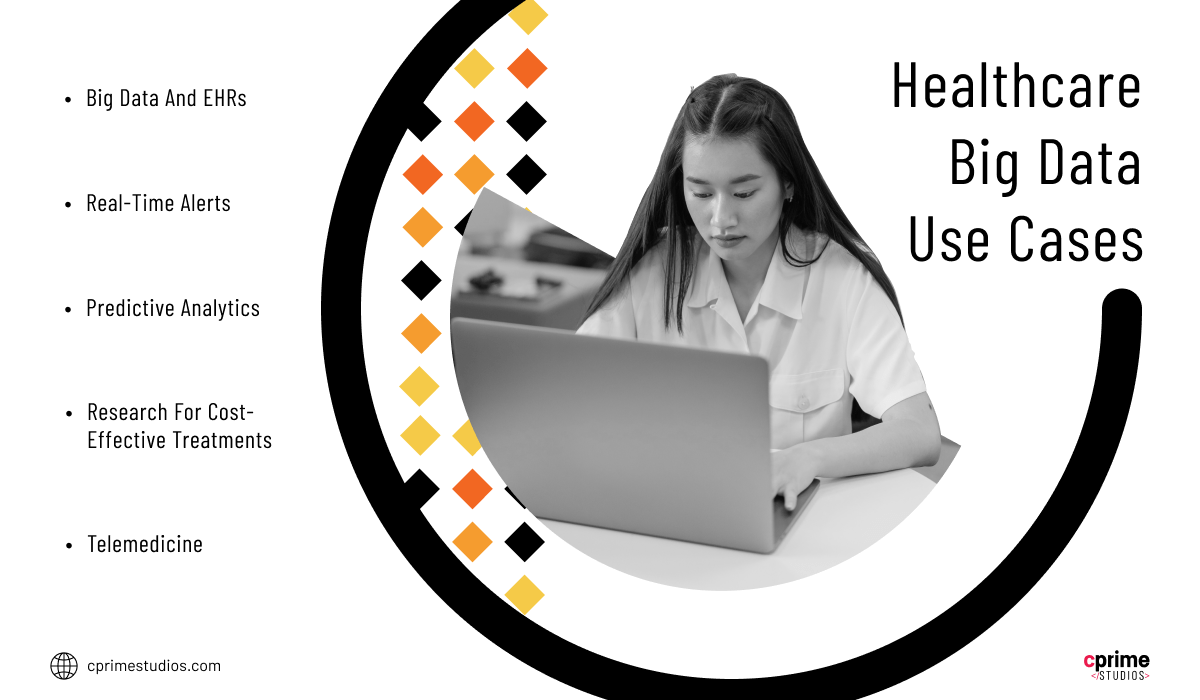 BIG DATA AND EHRS
The most important use case for big data in health care is, of course, electronic health records (EHRs). The use of EHRs is supported by the HITECH act and governed by HIPAA rules and standards. Efficient use and analysis of EHRs can improve care coordination and reduce healthcare costs as sharing data between doctors and care providers can eliminate duplicate tests and drugs prescription. Another important aspect that can result in better-targeted therapies is predictive modeling based on data from other patients with the same condition, genetic factors, and lifestyle.
Using big data analytics based on data on real clinical encounters, treatments, and outcomes, medical professionals can spot the links between diseases and update guidelines and clinical advisory recommended treatment protocols. For example, Kaiser Permanente Health Connect system which has been implemented in the hospitals of this health care provider, allowed them to decrease mortality rates from heart attacks (by 24 percent), strokes, cancer, and sepsis through the use of EHR analytics data.
REAL-TIME ALERTS
Real-time alerts are an important use case of big data analytics in healthcare. These alerts can effectively prevent hospital infections which normally affect 1 in every 20 patients in the US. For example, the tandem of IBM and OhioHealth using big data analytics involved using a network of IBM wireless sensors and real-time big data analytics measuring hand washing practices in the hospital in Columbus, Ohio. The sensors were installed at handwashing stations in the hospital and transmitted data about the use of each station through a wireless mesh network. Then the data was matched to hospital personnel entering and leaving patient rooms. The cloud technology was used to store and analyze data in real-time to generate reports and compliance studies. The initiative is to provide OhioHealth hospital administrators with real-time hand hygiene data that can be used to reduce healthcare-associated infections (HAIs).
According to IBM the pilot project "has achieved more than 90 percent compliance with hand-washing standards – a 20 percent jump over its previous practices and well above the 50 percent national compliance level."
PREDICTIVE ANALYTICS
Predictive analytics is another prominent use of Big Data analytics. For example, four hospitals of the Assistance Publique-Hôpitaux de Paris (AP-HP) in Paris are trialing big data and machine learning systems to forecast admission rates. The system uses the data from various internal and external sources, including hospital admissions records for 10 years, to predict the day and hour-level number of patients expected to arrive using time series analysis techniques. The expected benefits of the system are the more efficient deployment of resources and better patient outcomes.
TELEMEDICINE
Telemedicine is also a use case of Big Data in health care. The Internet of Things (IoT) provided lots of opportunities to track vitals and control treatment processes. Smartphones, wireless devices, and wearables allow delivering remote clinical services, while also fostering patient education and compliance for medication usage and specialist collaboration.
Big Data analytics provides opportunities for better initial diagnosis based on the data of other patients with similar symptoms, lab test results, genetics, and lifestyle. Predictive analytics is also used to predict acute medical events and prevent patient condition deterioration and thus prevent unnecessary ER visits. According to healthcare analytics expert Martin Kohn, M.D., mining big data in telemedicine can identify the most acutely and chronically ill patients in population health programs and provide better care while reducing costs.
Evidence-based medicine relies on Big Data now more than ever before. Traditionally, treatment decisions were based on the physician's judgment. But according to McKinsey, the shift towards evidence-based medicine involves "systematically reviewing clinical data and making treatment decisions based on the best available information." That means that big data algorithms aggregating individual data sets provide the most evidence for larger patient data sets, thus providing data for more accurate diagnosis and more efficient care. President Obama's precision medicine initiative states that genomic data can be used for the development of personalized patient treatment for a variety of diseases using the power of big data. The National Institutes of Health (NIH) has already launched a patient data repository and patient portal developed in partnership with Geisinger Health System to promote genomic research use in the prevention of diseases and development of treatments and therapies.
RESEARCH FOR COST-EFFECTIVE TREATMENTS
Pharma is another sector that receives value from big data. Here big data analytics is used to research the most cost-effective drug treatments. For example, AstraZeneca and HealthCore, Inc., WellPoint's data and analytics subsidiary announced a collaborative agreement to conduct real-world studies to determine the most effective and economical treatments for some chronic illnesses and common diseases.
CONCLUSION
All this means that big data provides plenty of opportunities and benefits for the healthcare industry – from early diagnosis of illnesses to choosing the best treatment strategies developed based on clinical and genomic data. Big data initiatives can transform the health care system and it can happen soon. In Cprime, we collaborate with many organizations in the healthcare industry and help them manage their data assets with medical big data analytics. Need help with a digital healthcare solution? Contact us at learn@cprime.com.