We are extremely excited to roll out our newly developed Project Management Excellence Award. The program is designed to recognize and celebrate consultants who have gone above and beyond expectations. Please look below to see this quarter's featured consultants:
Elsa Lee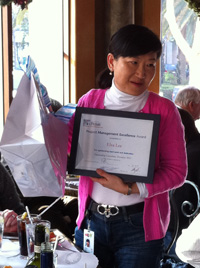 Elsa joined eBay in August to lead an extremely sensitive ERP implementation. Between her tireless work ethic, her political savvy and her resilience in the face of adversity, Elsa's success has been noted by 100% of the stakeholders that we interviewed at eBay. The Manager of the Global Technology PMO of eBay, spoke of Elsa as "setting the standard for future Project Managers at eBay."
Veerabhadresh Veeranna
Veer joined GAP more than 18 months ago and has been leading multiple high profile, important projects for GAP Corporate IT. Veer's dedication and hard work has been continually praised by his co-workers and the PMO leadership at GAP, leading to multiple contract extensions. The Director of PMO at GAP recently proclaimed that without Veer's tireless oversight they would have only achieved a fraction of the success that they have enjoyed this year.
Padmaja Mummaneni
back in 2009 as a Business Systems Analyst. She has an amazing work ethic and has been recognized countless times for her success by her management and peers. Padmaja has continued to extend her contracts at Netapp and just most recently, converted from a Business Systems Analyst into a Project Management role. It has been a great pleasure working with Padmaja and we know that she will only find success in her new role.