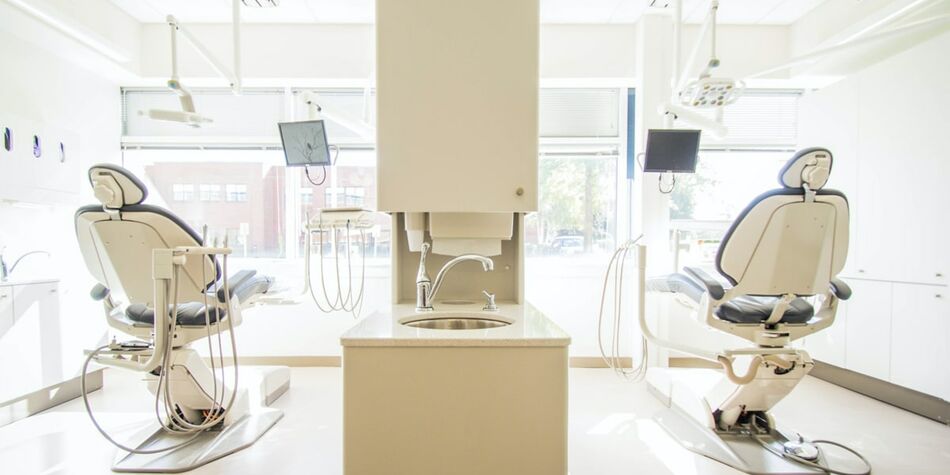 Developing new dental practice management software is not a one-time task, but a continuous process. The high-quality software for dental practices should provide the best set of features and services to remain organized and focused on treatment plans, medical records of the patients, and appointment schedules.
There are different dental management solutions offered by software development companies that confuse customers rather than assist them. Having said that, below are a few tips and tricks to consider before making a purchase or starting development work on a custom dental management system.
THE BASICS OF DENTAL SOFTWARE DEVELOPMENT
It may sound obvious, but how can software help make work more efficient, simple, and accurate? These are not specific requirements, but anything remotely close to these necessities deserves attention:
Practice efficiency: Software professionals have to develop programs in such a way as to make them simple and easy to use for everyone. Some of the key functionality for dental software is created for maintaining general billing, insurance claims, appointment plans, etc. Therefore it will be an indispensable assistant for the efficient operation of the workplace.
Simple means perfect: Since many practices have complex dental software programs, this leads to poor utilization of the features. Strive for simplicity! Forget about the popular trends, focus on the most basic things that will give you what you need.
Accurate clear data: You could track patient health records or invoices for free using a pad and pen, or an excel document, but filing important documentation manually could result in errors. Dental software organizes your day-to-day management and financials. Automatically updating data and generating accurate reports will make staff and doctors feel comfortable and well-equipped.
GENERAL FEATURES OF PRACTICE MANAGEMENT SYSTEMS
High-standard dental billing software should integrate with existing systems and have plenty of web and mobile applications for your practice's needs. These important dental patient management applications automate scheduling, insurance claims, billing, Electronic Health Record (EHR), and digital imaging. In turn, digital or sensor dental imaging tool offers:
X-ray imaging
2D intraoral imaging
2D panoramic and cephalometric imaging
If you pay for software that does not have some of the necessary useful built-in features, you will probably end up having to purchase an individual add-on. This means extra costs and the possibility that this additional tool will not work normally due to incompatibility with the existing software.
Also, you need to remember, that software maintenance is often left out of discussions, and the total cost of development could be higher than the expected initial cost. The additional price could be added not only for new features but for bug fixing, optimization, or general updates like security and new technologies, etc. Here are other standard features that may be included in the dental clinic management system:
Patient statements and prescription writer
Online appointment reminder and lab tracking
Comprehensive patient communication tool
Monthly payment plans and report writer
Digital documents and patient images
Cloud – store and billing system
Real-time chat and workflow manager
Dental Practice Management System Features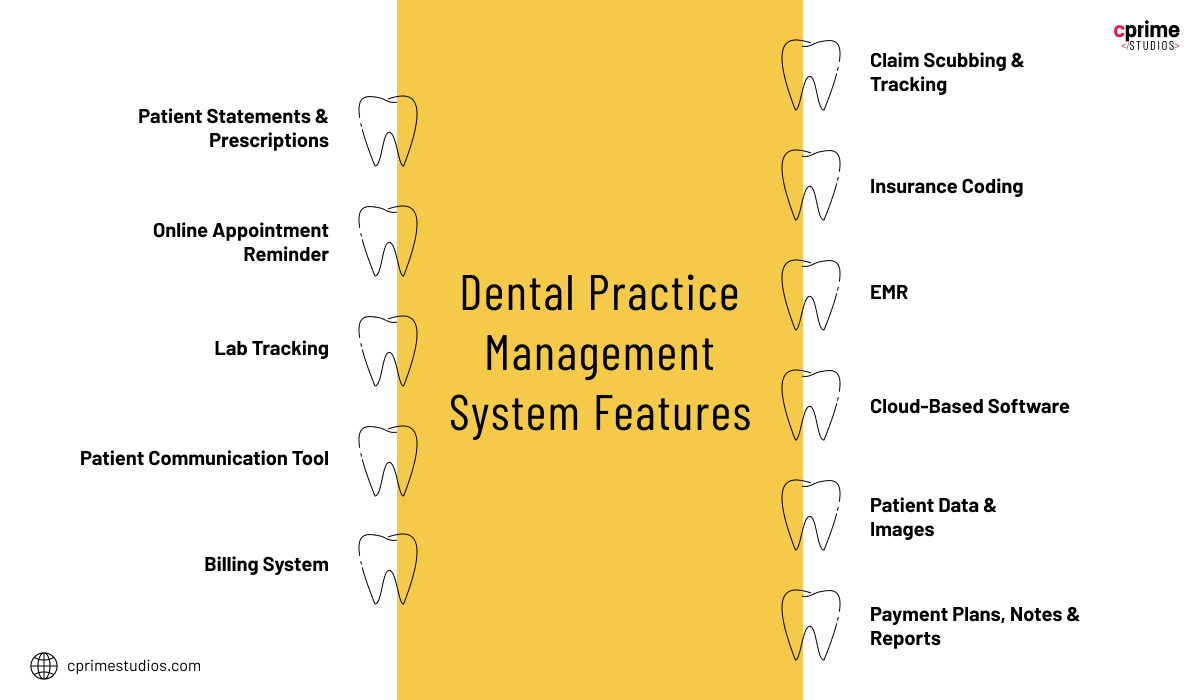 CLOUD-BASED DENTAL PRACTICE MANAGEMENT SOFTWARE
The future of dental institutions looks 'cloudy' as every business moves internal software development to cloud storage. Thanks to the cloud, it's easy to access a remote server where data is always available from anywhere and from any device. To build cloud dental practice management software means the outcome will be grand – a robust, professional, and economic solution.
When your business is booming, the number of patients increases and you may need to hire more employees. This will lead to a need for more data storage. If you are planning to utilize cloud-based software, check with the custom development company about how much available storage you will have. As an example, lots of dental software developers charge based on the number of staff in the office. So the more people requiring access to the software, the higher the fee.
Shifting the paradigm from a desktop version to the cloud and mobile means frictionless productivity, innovation, and lower cost. The cost of general desktop dental EHR software can cost up to $50,000 and that includes initial development fees, maintenance, training, and advanced features. Some hospitals also have to hire an IT person to resolve complicated software-related issues. Note, that these are just estimates. The final price of the project can strongly depend on the type of company you intend to work with.
The new age for healthcare IT: How is digital healthcare transforming the industry?
SECURITY AND DATA PROTECTION
Providing personal data security is the main objective. Dental software should have essential features such as automatic protection from security issues. Data security should be the top priority when it comes to online dental practice management software. You need to protect your electronic health records by understanding common security issues before moving forward in the implementation process. Developers should provide you with advanced features to protect your system, and install the latest security software and encrypt sensitive data.
The software should have protected data storage, encryption, protected access, and cleaner data. All data transfers between offices or devices should have the highest level of encryption against third parties. You should look for these vulnerabilities in your company's data system to avoid a breach.
Advanced encryption technology can prevent any breach of data, hack, or ransom software. Encryption technology exists for one primary reason – to keep your data and system secure and protected from malicious threats and malfunctions.
Take an opportunity to review your account security. The experts should impose strict security procedures on account access. All account activities, payments, and patient details should be stored in a reliable security system.
Due to security concerns and to eliminate the possibility where your personal business information falls into the wrong hands, you can choose a private cloud for storage. Private clouds are driven by concerns around security and compliance.
HOW MUCH DOES IT COST TO DEVELOP DENTAL PRACTICE SOFTWARE?
The dental practice management software systems development can be expensive in terms of quality and maintenance. When purchasing new dental software, identify the total price for implementation, maintenance, IT services, and training. Countless times the price quoted does not illustrate the whole picture. Be careful and give your attention to all of those hidden costs.
Reviews show that more dental specialists are tending to apply cloud-based software as the product of choice for their business. Cloud practice management software is commonly more secure, less demanding, simpler to set up and work with, and the price is more reasonable. When purchasing cloud-based dental software, get some more information about cloud storage options. And you need to be cautious with the additional features and what functionality you get for your money.
Remember, it's impossible to estimate the dental practice software development cost without having any details. The cost to develop a dental practice software depends on many factors – from your requirements to a team who will perform the work. Usually, some developers are faster than others because they have more experience. That means they'll make the project faster, but they'll be asking for a higher price.
DENTAL SOFTWARE DEVELOPMENT IS AN ART, A CRAFT, AND A PROCESS
There is a general consensus among IT specialists that the customizable software development process can become flawed, for any number of human reasons – administration, communication, or clarity. And the other factor is technical issues – design, reliability, support, etc. And yet, when it comes to talking about dental software development, a wide variety of additional methods are applied to achieve the best results:
The art of design means that good software has to not only be friendly, casual, approachable, but also serious, genuine, and respectful. A development team is involved in the creative process by utilizing the best skills acquired as a result of learning and practice.
Software development as a craft requires particular knowledge of skilled work. It produces a result that is both functional and beautiful.
A proper process can solve many issues when building software. Engineers just keep performing the work according to the type of product and predefined standards.
As an outsource development company, we're basing lots of our development on customer feedback and understand what they want in terms of software design and development. Especially when it comes to building quality software when huge crowds are coming to the hospital daily for their health-related problems.
To make sure you stay concentrated on helping your patients achieve the smile they always wanted, we offer to develop one of the best dental software and create a quality product in terms of art, craft, and process. Additionally, our experts specialize in security software for mobile and web-based devices.
If you want your business to work smarter and faster, and you are looking for dental practice management software development, get in touch with us today at learn@cprime.com.