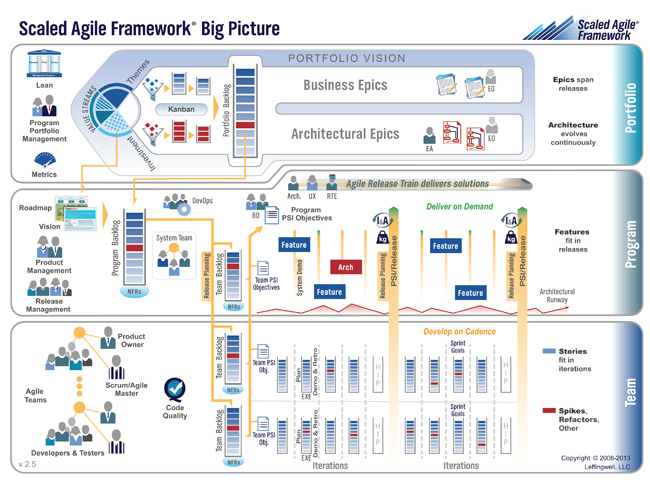 Now offering Scaled Agile Framework (SAFe) services to take Agile to the program and portfolio level of your organization. The Scaled Agile Framework (SAFe) is a proven, publically available framework for applying Lean|Agile practices at enterprise scale. As a Gold Scaled Agile Partner we work with large organizations with complex or hybrid processes to help them realize the benefits that SAFe offers.

Assessments & Implementation Consulting
Our SAFe Program Consultants (SPCs) take a top down approach to executing SAFe in a large organization by identifying and aligning a team of executives, stakeholders and organizational architects with insight into the organization's environment. Our SPCs will assess your organization's Agile maturity as well as your SAFe adoption maturity before your transformation begin to ensure they advise the right level of Agile training and SAFe implementation guidance to get you running smoothly. This team will craft an adoption strategy and a transformation backlog which will include training all levels of your organization, coaching and mentoring teams and executives and aligning your tool to the SAFe framework. Implementation consulting at the portfolio level continues throughout your transformation and ensures a smooth execution of the backlog.
Training
Train Lean | Agile Change Agents
SAFe Program Consultant (SPC): The SPCs do the "heavy lifting" necessary to help effect organizational change, train managers and others in the principles and practices, initiate Release Trains, and provide other important services to enable success. Although cPrime provides our own SPCs onsite for your transformation, you may choose to have us train additional internal change agents to be SPCs to supplement your transformation team.
Train All Executives, Managers and Leaders
SAFe Agilist (SA): cPrime can train your executives, managers and leaders as SAFe Agilists (SA). The responsibility for adoption and success lies with the enterprises existing managers, leaders and executives. Such a responsibility cannot be wholly delegated to the agile advocates, development teams, or outside consultants; the leaders themselves must own the mission. To achieve this, our leaders must be trained in these new and innovative ways of thinking and operating. Audience: Executives, managers, consultants, and Agile change agents responsible for leading a Lean|Agile change initiative in a large software enterprise
View Schedule
Train Teams and Launch Agile Release Trains
SAFe Practitioner (SP): The primary value delivery mechanism in the enterprise is the Agile Release Train, but starting these trains is not a trivial task. One proven starting mechanism is an Agile Release Train Quickstart. This scalable and cost effective, week-long, immersion program includes:
Organize 50-100 team members into agile teams, and train them simultaneously in the principles of Lean, Agile, SAFe and the implementation of ScrumXP in the enterprise context
Align the teams to a common mission and spend two days planning face-to-face for the next potentially shippable increment (PSI/Release, 8-12 weeks) of the system level solution
Introduce prospective Product Owners and ScrumMasters to the skills and activities unique to their role in the new agile enterprise
Build context and a cadence-based rolling-wave planning and delivery model, that continuously incorporates business objective setting and program commitments, effective and reliable program execution, and adaptive feedback
Audience: Software developers, testers, project managers, product managers, and other practitioners involved in software development
View Schedule
Embedded Coaching
cPrime has a bench of SAFe Program Consultants who can work with you throughout your entire transformation and beyond. If you need an expert for a few weeks or embedded for an extended period, we have the resources you need. Meet our SAFe Consultants (link to instructors) Once the enterprise has a critical mass of Lean Thinking Manager-Teachers in house, and a few Agile Release Trains rolling, a variety of additional consulting activities may be applicable and beneficial. These can include:
Coaching the teams on the train to enhance Scrum and agile skills and prowess
Coaching and mentoring Scrum masters, Product Owners and System Teams
Conducting Agile Architecture workshops
Facilitating release train readiness and backlog grooming
Facilitating portfolio planning workshops
Facilitating Inspect and Adapt workshops
Implementing relevant Metrics
Mentoring other program stakeholders
Assisting with Continuous Delivery practices
Training in Test-Driven Development, Acceptance Test Driven Development and other XP-inspired and technical practices
Supporting Tools – JIRA
The highest level of the Scaled Agile Framework, is the portfolio level where program's are aligned to the investment and business strategy of the enterprise. JIRA allows companies to scale agile to support multiple release trains by providing easy access to the key structural elements of the Portfolio layer: Investment Themes, Business and Architectural Epics, Portfolio Kanban Process, and Portfolio vision.
Request Info