Scaled Agile Framework ® (SAFeTM)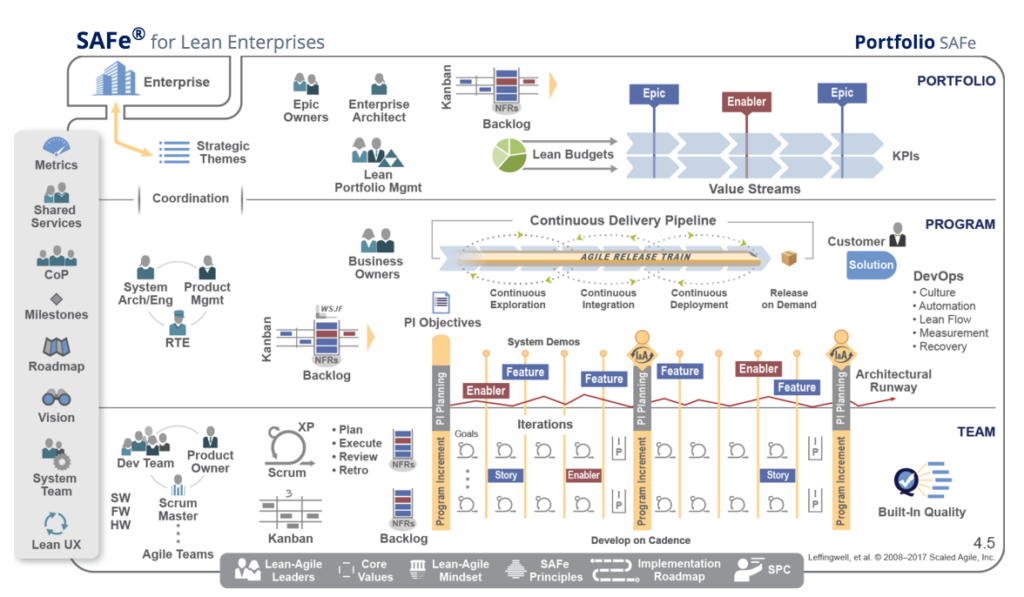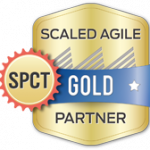 What is SAFe?!
The Scaled Agile Framework is a proven, publicly-facing framework for applying Lean and Agile practices at enterprise scale. This framework synchronizes alignment, collaboration and delivery in the enterprise and scales successfully to large numbers of practitioners and teams. At the roots of the Scaled Agile Framework is a deep focus on iterative and incremental development, agile development, product development flow, lean thinking and field experience at enterprise scale. The core values of the Scaled Agile Framework include:
1. Code Quality
2. Program Execution
3. Alignment
4. Transparency
Scale to the portfolio:

Centralized strategy, decentralized execution
Investment themes provide operating budgets for trains
Kanban systems provide portfolio visibility and WIP limits
Objective metrics support governance and kaizen
Value description via Business and Architectural Epics

Scale to the program:

Self-organizing, self-managing team-of-agile-teams
Continuous value delivery
Aligned to a common mission via a single backlog
Common sprint lengths and estimating
Face-to-face planning cadence for collaboration, alignment, synchronization, and assessment
Value description via Features and Benefits
Assessments & Implementation Consulting
Our SAFe Program Consultants (SPCs) take a top down approach to executing SAFe in a large organization by identifying and aligning a team of executives, stakeholders and organizational architects with insight into the organization's environment. Our SPCs will assess your organization's Agile maturity as well as your SAFe adoption maturity before your transformation begin to ensure they advise the right level of Agile training and SAFe implementation guidance to get you running smoothly. This team will craft an adoption strategy and a transformation backlog which will include training all levels of your organization, coaching and mentoring teams and executives and aligning your tool to the SAFe framework. Implementation consulting at the portfolio level continues throughout your transformation and ensures a smooth execution of the backlog.
SAFe Quickstart (5 days)
The fastest way to get product, service, or application value streams delivering the benefits of Agile at scale. • Training for up to 125 team members in the principles of Lean – Agile and the implementation of Scrum in an enterprise context. • SAFe ScrumXP (SP Cert.), SAFe Scrum Master & Product Owner Orientation, SAFe Release Planning, Sprint Planning. • Introduce Product Owners and Scrum Masters to the principles and practices unique to their new role. • Included in cost: Prep for ART, I&A, Retrospective Assumes one SPC, includes SAFe ART Training & Launch Pack and Readiness Kit. ($7,500.00 commercial cost)
Training
Executive SAFe Training
Our SAFe Executive Agile Overview course interactive overview of Scrum and SAFe, along with best practices, tools, and challenges associated with the adoption of both frameworks. It addresses organizational impact, distributed teams, agile leadership, and techniques and metrics for agile transformations, at a level appropriate for executives and managers. This workshop is designed to help your organization's leadership team understand how Agile and SAFe principles and practices benefit the entire organization. Concurrently, it aids the participants in understanding the "rules of engagement" that Agile asks them to follow for organizational success. The purpose of the presentation is to provide a sense for what the audience members and their organizations will experience, and need to do, when they transition to an agile Scrum process. Agenda will be determined through direct collaboration with client
The SPCs do the "heavy lifting" necessary to help effect organizational change, train managers and others in the principles and practices, initiate Release Trains, and provide other important services to enable success. Although Cprime provides our own SPCs onsite for your transformation, you may choose to have us train additional internal change agents to be SPCs to supplement your transformation team.
In this two-day course, attendees will gain the knowledge necessary to organize around value for optimal business results, implement lean-agile program portfolio management, governance and budgeting. You will also learn how to use and implement the Portfolio Kanban system to accelerate value flow to the programs.
Our two-day SAFe ScrumXP for Teams course goes well beyond Scrum. It teaches Lean thinking tools, roles, processes, and the software engineering practices necessary to achieve the code quality you need to scale Scrum to your enterprise business context. The course is intended for new teams in an enterprise agile adoption program or can be used to re-baseline existing Scrum teams as required for scaling.
Cprime can train your executives, managers and leaders as SAFe Agilists (SA). The responsibility for adoption and success lies with the enterprises existing managers, leaders and executives. Such a responsibility cannot be wholly delegated to the agile advocates, development teams, or outside consultants; the leaders themselves must own the mission. To achieve this, our leaders must be trained in these new and innovative ways of thinking and operating. Audience: Executives, managers, consultants, and Agile change agents responsible for leading a Lean|Agile change initiative in a large software enterprise
This course includes a SAFe® Overview, Product Manager/ Product Owner training, and an optional SAFe PM/PO certification exam. In this two day interactive workshop, we begin with a brief introduction to SAFe principles and a guided tour of the Scaled Agile Framework®.
Embedded Coaching
Cprime has a bench of SAFe Program Consultants who can work with you throughout your entire transformation and beyond. If you need an expert for a few weeks or embedded for an extended period, we have the resources you need. Meet our SAFe Consultants (link to instructors) Once the enterprise has a critical mass of Lean Thinking Manager-Teachers in house, and a few Agile Release Trains rolling, a variety of additional consulting activities may be applicable and beneficial. These can include:
Coaching the teams on the train to enhance Scrum and agile skills and prowess
Coaching and mentoring Scrum masters, Product Owners and System Teams
Conducting Agile Architecture workshops
Facilitating release train readiness and backlog grooming
Facilitating portfolio planning workshops
Facilitating Inspect and Adapt workshops
Implementing relevant Metrics
Mentoring other program stakeholders
Assisting with Continuous Delivery practices
Training in Test-Driven Development, Acceptance Test Driven Development and other XP-inspired and technical practices
Supporting Tools – JIRA
The highest level of the Scaled Agile Framework, is the portfolio level where program's are aligned to the investment and business strategy of the enterprise. JIRA allows companies to scale agile to support multiple release trains by providing easy access to the key structural elements of the Portfolio layer: Investment Themes, Business and Architectural Epics, Portfolio Kanban Process, and Portfolio vision.
SAFETM, Scaled Agile Framework® and related logos, are trademarks of Leffingwell, LLC.